The Twisted Purl, especially in the Felted Soap department, has been booming.  We have been very blessed with more new retail stores purchasing Felted Soaps (we are now up to 53).  Woohoo!
With the added Holiday Shopping season approaching and Dazzle Daze just around the corner, I've felt just a tad bit overwhelmed. There is only so much one person can do, especially in the handmade field.  I hate not getting the orders out in a more timely manner.  Just having an extra set of hands to help package, blend fibers, and label would be a tremendous help.
Plus, fiber arts is something you can not just learn about anywhere. Being able to pass on my passion and the hands on knowledge it's taken me a few years to acquire will be a blast.
After just a short time of interviewing, I'm thrilled to have found our very first intern.  With the timing of the semester being so wonky, she'll be with us for a few weeks this year and then start again after winter break.
Very excited to announce the addition of Zoe to our fiber family.  Below is her introductory post.  She will be posting on our blog every week and sharing the different experiences with you.  Today is her very first day!!!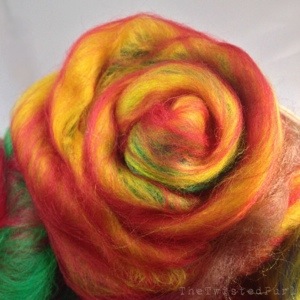 My name is Zoe.  I'm a junior at Hendrix College studying studio art and Spanish language.  I'm interested in a future of design and writing, (in both Spanish and English,) and also one involving making art, whatever medium I may choose.  I love my position working on the yearbook here at Hendrix, and am thrilled that both of my majors allow me to pursue my many passions and interests.  Although everything I've said is true of me, I would much rather say it in a more interesting fashion.  I prefer to summarize it in the simple phrase "College student, creative writer, life designer, musician, nature lover, creature catcher, star gazer."
As an art student at Hendrix College, I'm able to learn new art techniques daily.  I do this by taking classes in varying medias such as printmaking or ceramics, and also by experimenting through art without the fear of failure.  There is nothing more exciting than seeing a piece of art or a component of art, and learning how to do that particular project on your own.  I would be ecstatic to intern at The Twisted Purl because I would love to learn about a type of art that I am not able to pursue here at Hendrix.  I am also extremely interested in learning about the ins and outs of a local, home-run business through first hand experience.
By interning at The Twisted Purl, I would hope to leave with not only a newly acquired skill, but also a new passion and interest that would allow for more artistic growth, and might also aide with a future job.  I would also hope to be able to show others the personable nature of a handmade product.  Nothing is better than experiencing something handmade.  When you touch or hold the item, you can almost imagine yourself there with the person as they are making it.  Being a part of such a intimate experience has been so exciting for me during my art career, whether this be while using a handmade sheet of paper or making my own clay, and I hope to be able to bring the amazing idea of "handmade" to many more people.
Keep on learning, creating, and growing.
Zoe B