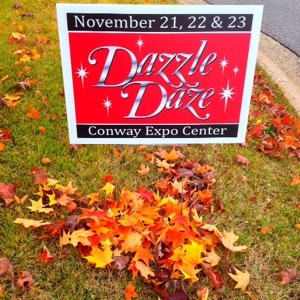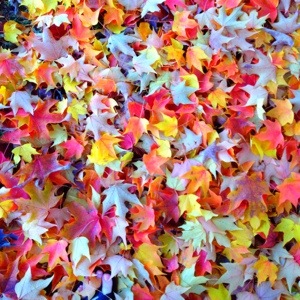 It's Fall and not even Thanksgiving but at The Twisted Purl Place, aka my home, it's already beginning to look a lot like Christmas.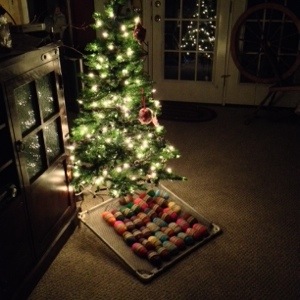 A small tree is up in my living room with new ornaments being added as fast as I can make them.  Felted Soaps are drying under the tree.  I'm singing Christmas Carols as I spin up Christmas themed yarns.
Yep, Dazzle Daze is just around the corner.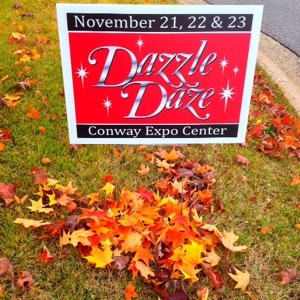 Dazzle Daze is a huge 3 Day shopping extravaganza for an excellent cause.  The event benefits the Conway Regional Women's Center.  Tickets are only $5 for the event or $25 for the Thursday Girls Night Out Event.  You can buy tickets for Dazzle Daze here.
There are over 85 Dazzle Daze Merchants all with amazing items and lots of goodies.  Each booth will be totally decked out and spreading Christmas cheer and yes my friends, I will be among them.  This is the perfect place to find one of a kind gifts for every person on your holiday list.
Let me be honest here, getting ready for such a big show is a bit overwhelming but immensely rewarding.  As I've said often, I ADORE talking to people face to face about my craft and sharing my handmade story.  BUT, the lead up to and preparation for a big show is always a lot.  Three days of shopping means (God willing) the need for enough inventory to sell for three days!  When you are talking all handmade that is a whole lot of work.  In the past I've shared a booth, which takes a lot of the pressure off, but this year I fly solo.  So I'm nervous and busy and sleep is not really a necessity, right?
I love to share the steps of the handmade journey with you and this new yarn journey is exploding with Christmas colors and texture.  Here's the "Basket of Fluff":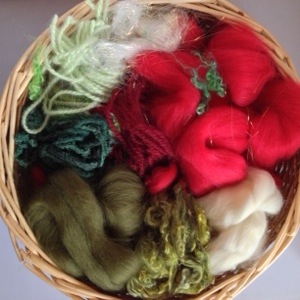 Along with my standard handspun yarn, felted soaps, and other fiber creations for Dazzle Daze I'm making a few ornaments.  That's the plan for this yarn.  Funky textures and Christmas colors for uniquely handmade ornaments.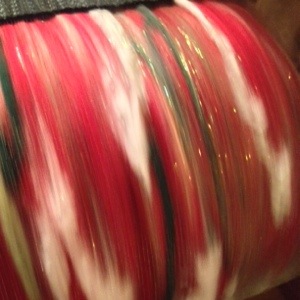 Above is a photograph of the fiber spinning on the drum carder.  It looked super sparkly (Angelina fiber does that and I love using it).  Below is the picture of the carded batt once it went through the drum carder.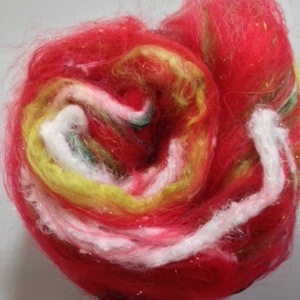 From the batt I spun the fiber into yarn with my spinning wheel.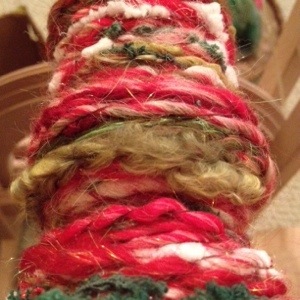 Because I plan to use this skein strictly for Christmas Ornaments I put it directly on my ball winder and skipped the process of putting it on the swift and into a hank of yarn.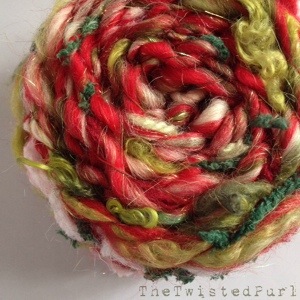 Here's the finished yarn.  It turned out pretty spiffy. Below is an example of one of the ornaments I've made.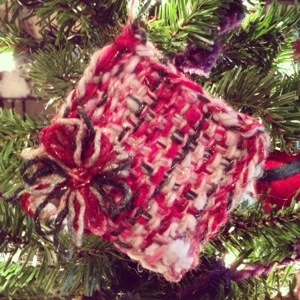 Want a discount? Come out to Dazzle Daze this year and show me the below coupon to receive $5 off. Save paper! No need to print it, just pull it up on your phone (even just tell me you saw it). 😉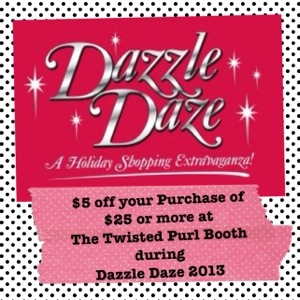 Dazzle Daze will take place at the Conway Expo Center and Fairgrounds at 2505 East Oak Street, Conway Arkansas. November 21-23, 2013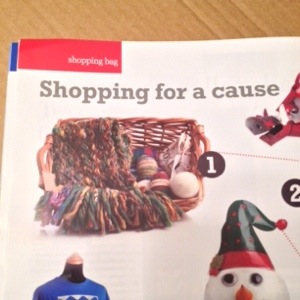 Find out more about the Dazzle Daze schedule on their website or through their Facebook page.
Hope to see you there!!!