We are now accepting applications for Summer and Fall Internships.
Want to learn how to make yarn, dye fibers, run a retail shop, as well as an online store?  Have a passion for knitting, crochet, and all things fluffy?
Come be a part of The Twisted Purl!
We produce handspun yarn, felted soap, and other fiber creations every day. The Twisted Purl ships products worldwide to 90+ retail stores and directly to customers through our website, Etsy, nationwide shows, and festivals, plus various other online venues.  We are also have a brand new retail shop in Downtown Conway, not far from any of the colleges.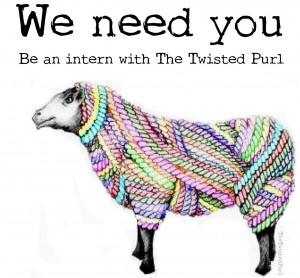 As an intern you will have hands on experience in all aspects of the business including order fulfillment, dying fibers, labeling products, social media, blogging, packaging, carding, photography, and other miscellaneous business related tasks.  There will be many more creative opportunities available to you though our program described below.
THE TWISTED PURL INTERNSHIP OPPORTUNITY:
Internship Duties: Each week's focus will be on the various tasks of The Twisted Purl fiber arts business.  In addition to the main weekly focus described below, you will also be expected to help with more shop tasks and write a short weekly blog post on your learning experience.  Handmade is a story that must be told and our customers enjoy reading about your learning experiences and perspective.
Working Hours: Flexible 8-15 hours of work around your class schedule weekly, Monday-Saturday.
Applicant Selection Criteria: Must have your own transportation; have no wool, nut, or animal allergies; and a strong work ethic. Great attitude and eagerness to learn. Signature of a nondisclosure and non compete form (on certain trade secrets of the business) is required and agreement to not share certain skills learned during internship is expected.
Compensation: This is an unpaid internship. You'll gain invaluable skills with hands on training, possible school credit (talk with your professors and the career center), and really learn what it is like to run a successful, creative business.
 Things you will learn during your Internship:
The Basics: Introduction to Equipment & Policies
The Art of Dyeing Fiber
How to Blend Fibers using a Drum Carder
Blogging and Social Media Business Skills
Introduction to Spinning
Management of a Fiber Arts Store
How to Felt
To apply for an internship opportunity with The Twisted Purl please send an email to: Cyndi@TheTwistedPurl.com with subject line "Internship Application" and follow these directions:  
Please include:
Introduction of yourself
Reasons why you would like to intern at The Twisted Purl
What you hope to learn from the experience
Include why handmade is important to you
Make it as detailed as you would like and be as creative as possible.
The Twisted Purl embraces being a local business and encourages the passion and love of handmade.  We'd be thrilled to have you take part in our handmade journey.
Past Interns: