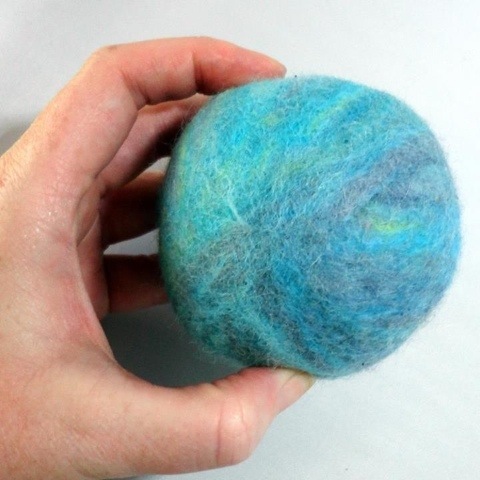 The Twisted Purl now has 100% Wool Felted Balls available.  They make the perfect toy for your child or pet and make excellent Felted Dryer Balls.  They have been baby tested & approved.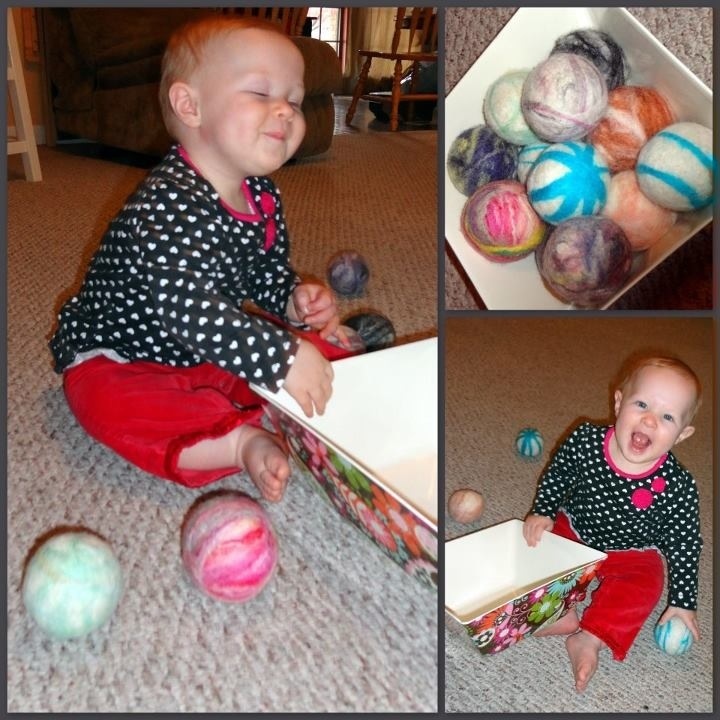 If you have a color preference please add a note during checkout. If no color is mentioned a bright variety will be sent.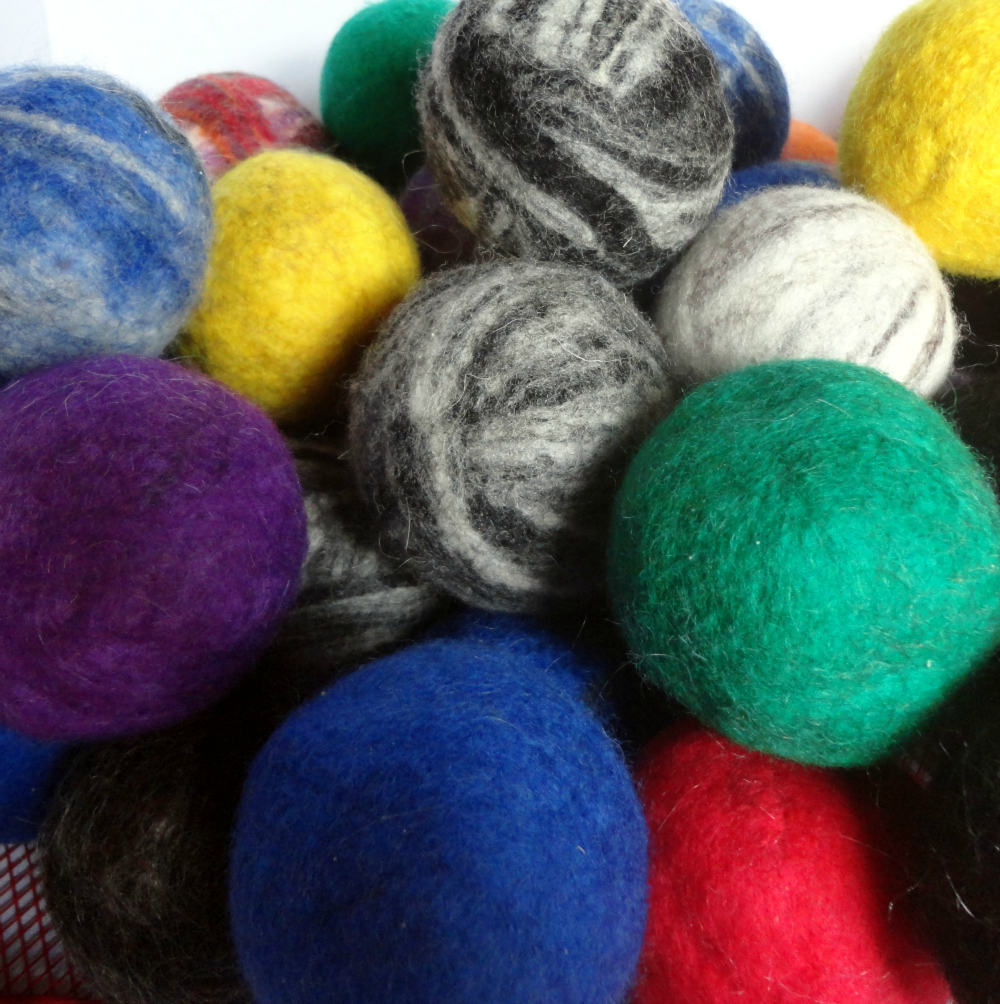 When used in the Dryer they have many benefits, plus can really save you money.
This is the right product for you if you are looking for a way to cut your energy costs and move away from the chemicals found in Dryer Sheets and Fabric Softeners.
HOW DO THEY WORK IN THE DRYER?
You place the felted balls into your Clothes Dryer with your clothes.  Because the wool is all natural you are helping to cut the exposure of chemicals for you and your family.  The other plastic dryer balls on the market are mostly made with PVC which can release gasses when heated.
The felted balls are 100% wool and are completely dry so they help to pull moisture out of your clothes faster than the Dryer would do on its own.  This cuts the drying time down, which saves you money on the electricity your dryer normally would use.
The moisture from the wool balls redistributes back into the dryer.  This reduces wrinkles and helps reduce static electricity, eliminating your need to add dryer sheets to each load.
The bouncing around of the dryer balls also acts as a natural fabric softener (no more need to add during your washing cycle).
Felted Dryer Balls have a very long life span.  We have been using the same ones for over a year and have read stories of those who have used the same balls for 8 years and counting.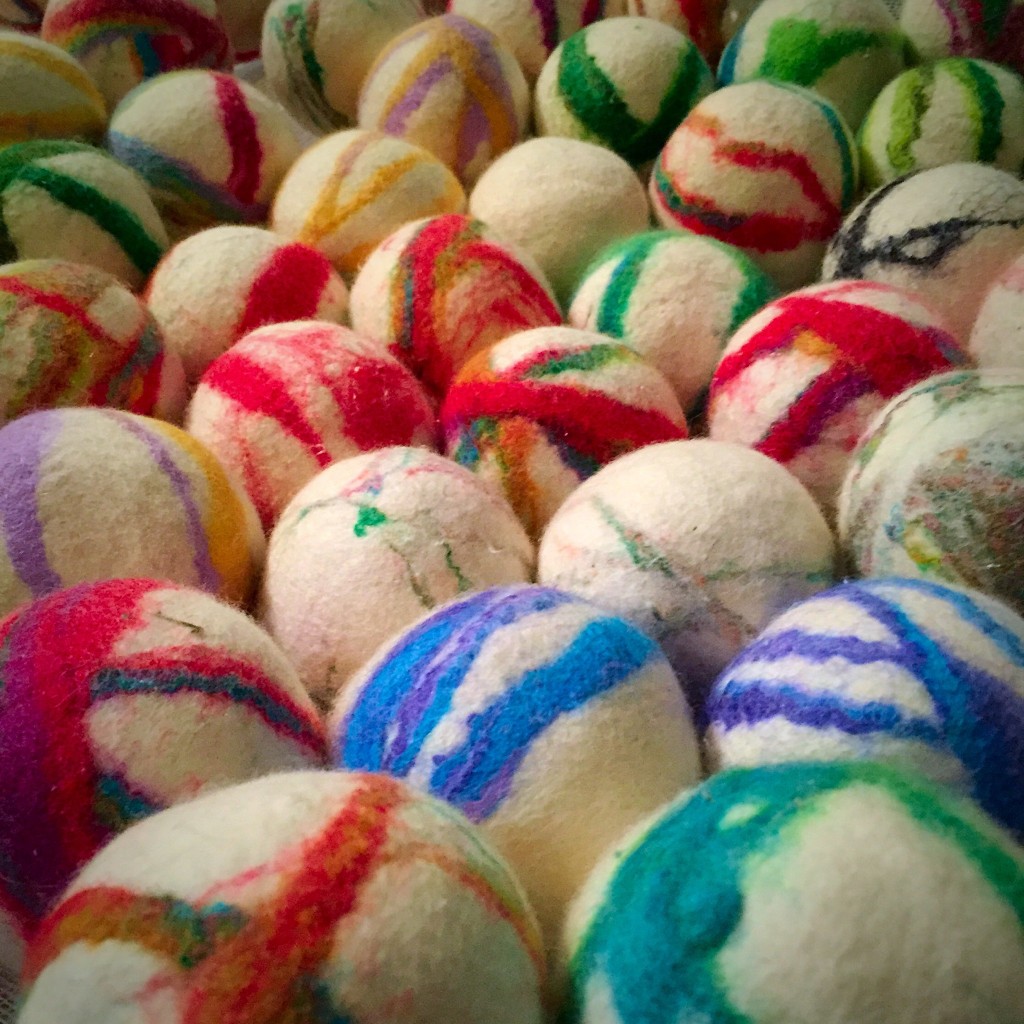 FELTED DRYER BALLS
All Natural
Cuts Energy Costs
Saves you Money
Helps to Reduce Static Electricity
Softens Clothes
Reduces the Chemicals found in Commercial Products
Long Lasting (8-10 years +)
So yes, these Felted Dryer Balls are the bomb! They are a 100% natural alternative to Dryer Sheets (and those plastic dryer balls) and each ball has an amazingly long lifespan.  We use at least 3-5 at a time in our household. The more you use the more they work.  Over time and use the wool balls do pill, this helps add extra friction to aid in the drying process.  If the pills bother you, you can always shave them off with scissors.
You can also scent the balls by adding a drop or two of your favorite scented oil.  We use an all natural Lavender on ours and the scent lasts through 8-10 Drying Cycles.  Just add the oil, let dry, and enjoy the scent on your clothes.
Pictured below is example of the All Natural Ball Colors.  These balls have no dye added and are all natural sheep's wool.  (To order this option, just chose All Natural under the drop down box next to the quantity box.)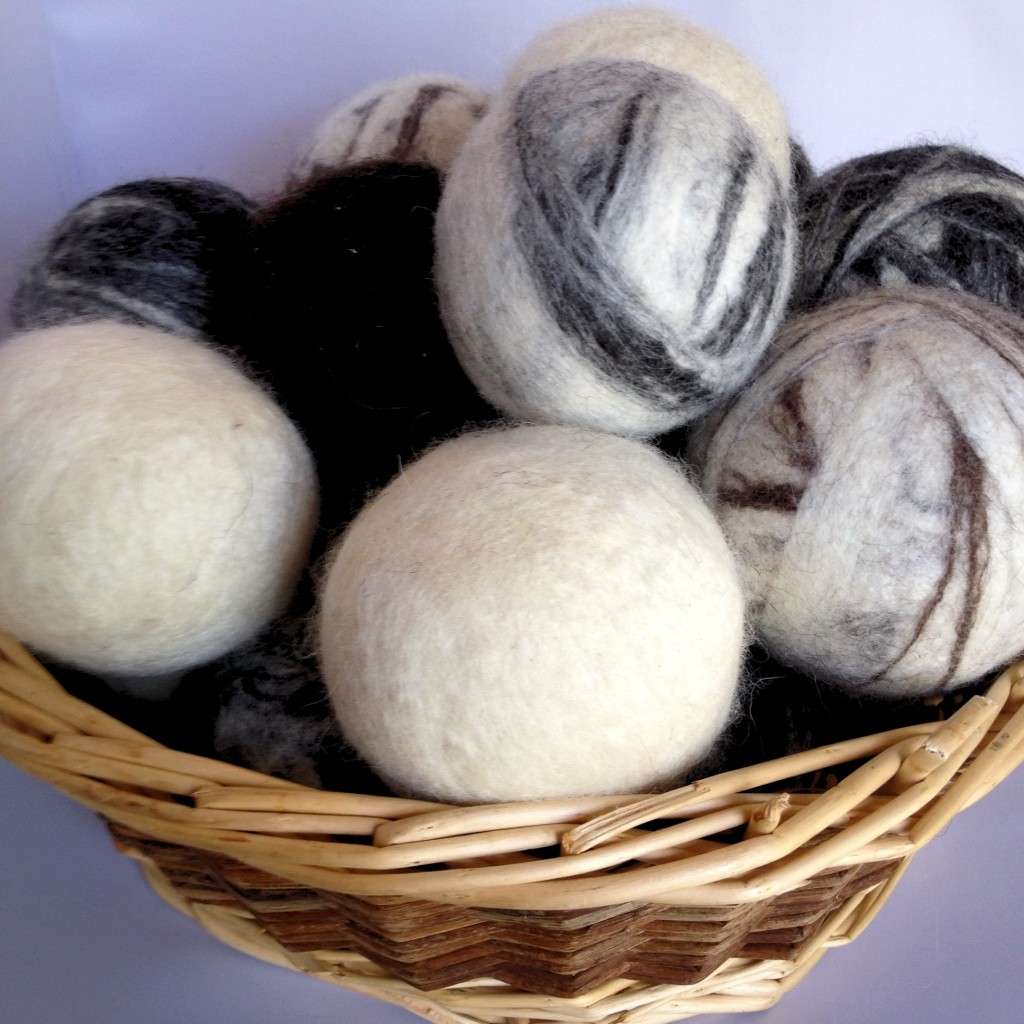 READY TO ORDER?
Felted Wool Balls are available in a variety of colors.  Each ball is handmade from wool and about the size of a tennis ball.  Please select the base color you would like included in your set by using the drop down box next to the quantity box.  If you would like specific color combinations, please chose other and describe in note during checkout.  United States Shipping is included in price.
Wholesale options are available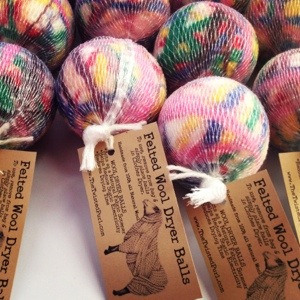 The sets come packaged with descriptive tag.
 Here are the latest customer testimonials we have received:
Megan B.  "I bought them to use with my cloth diapers, which create a whole lot of static.  They work amazing and I feel really good about the all natural aspect!"
Lauren R.  "I was shocked at how well they work.  I am a huge fan!"
 Brennan M.  "I love your dryer balls! They work so well!!! My kids love throwing them in the dryer for me!"
Kamicka T. "Love my dryer balls. Everyone in the world needs these. We really don't need dryer sheets anymore. These things are awesome."
Georgia F.  "HUGE FAN!!!  I will never go back to dryer sheets and fabric softeners again."