OMG I love this yarn!!!  This yarn is so amazingly soft.  It's alpaca *drool*, merino wool *double drool*, and Nylon (for strength).  It looks almost like a roving yarn.  But unlike a roving yarn, I pulled and pulled on it to see how much tension it would require to pull apart…it was seriously quite a bit!
From Island Yarn Company:
"50 grams, 140 yards, 70% Alpaca, 7% Merino Wool, 23% Nylon, Bulky weight, Hand-dyed in the USA, Hand wash
Poosh is our brand new alpaca blend. It is cloud-like in feel, but super strong.  It will knit gorgeous scarves, sweaters, mittens and more and the alpaca is sure to keep you toasty warm!"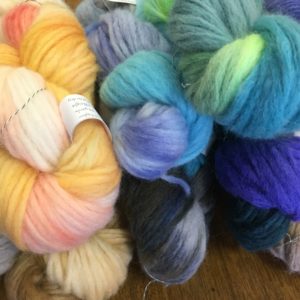 Wanting to find a couple fun 'one skein' projects to try out this new yarn, we went on a pattern hunt on Ravelry.  Poosh is next to skin, snugly soft, so we wanted a hat or a headband and we found both.  One knit project and the other crochet!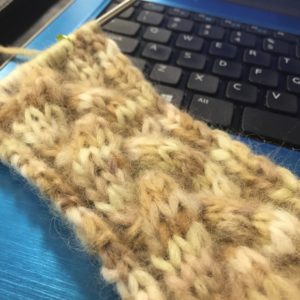 First the knit project.  So fun!!!  It is a cabled headband from a pattern called Fraga Headband.  You can find the knit pattern here.  It worked up fast and I'm already dying for this dang heat to go away so I can rock the fall days.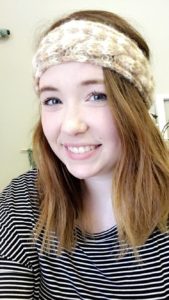 Here it is on one of our darling shop helpers.  She modeled it for us and then stated she wanted one.  There's plenty of yarn left to make a couple more, so she may just get her wish! 😉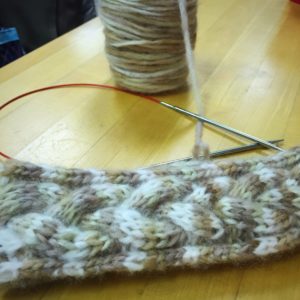 The next pattern is called "Crochet Street Slouch Hat".  It is a quick crochet, our assistant made it in one night.  Plus it's so dang cozy and adorable.  Did I mention it needed to be Fall already???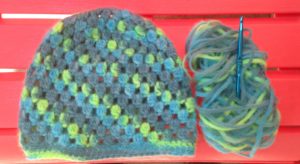 The crochet pattern can be found here. For rows 5-13, we added 2 more rows so it's longer and less slouchy.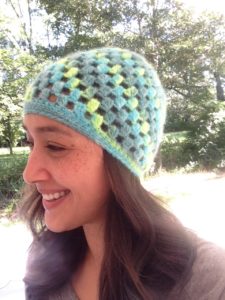 Here's the hat being modeled by another one of our shop helpers.  Too cute, right?
Right now, the yarn is available in the store, but it will be in our online shop soon!