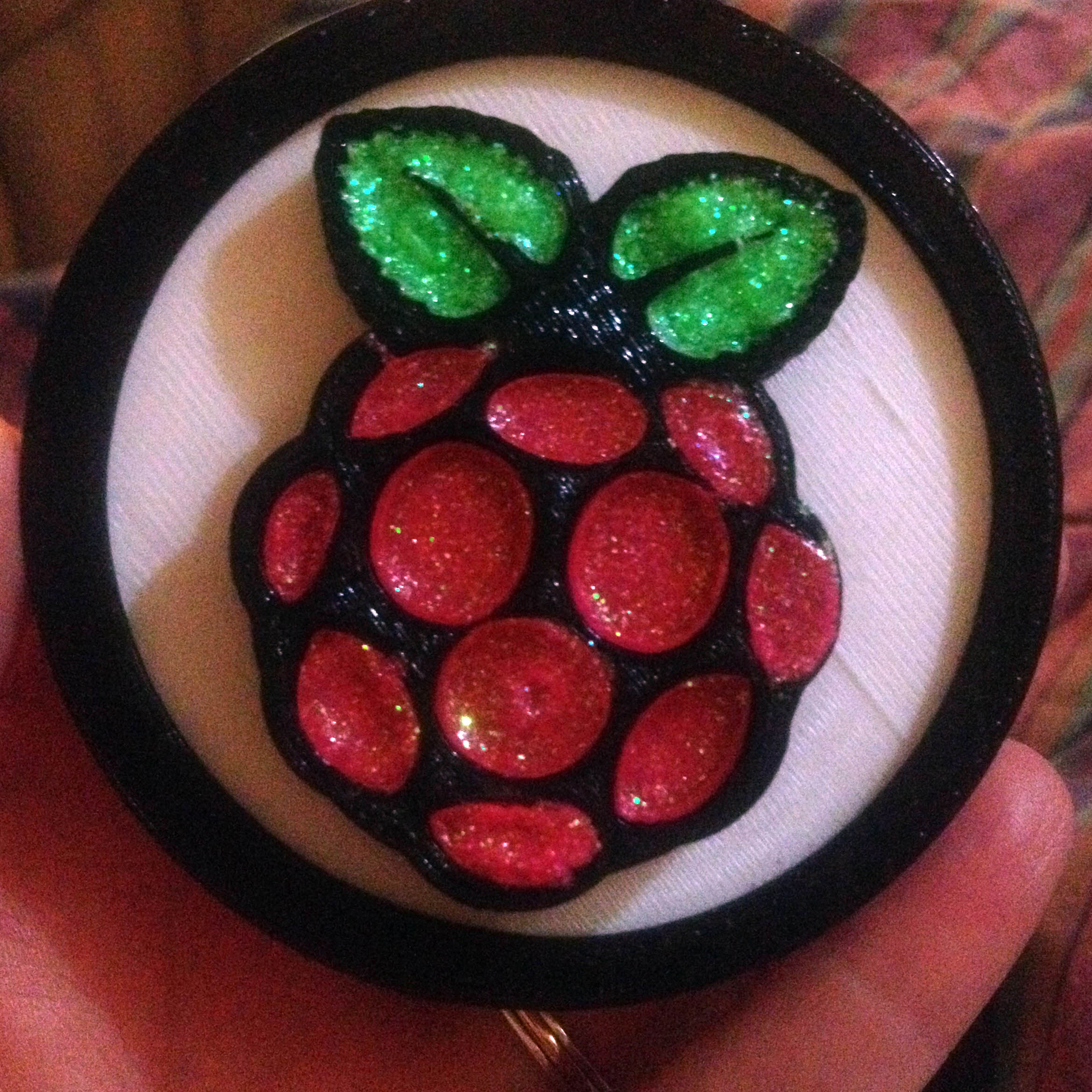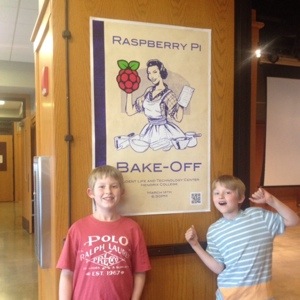 Pi day was March 14th (3.14 of course) and we attended the Raspberry Pi Bake-Off competition hosted by Hendrix College in Conway, Arkansas.  It was the perfect place to show off the Raspberry sPIn, a new electric spinning wheel powered by a Raspberry Pi.  You can read all about the Raspberry Pi powered spinning wheel here.
The family and I were really excited to see all the things the community members created with a Raspberry Pi.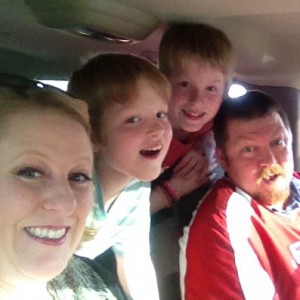 Honestly, I didn't know what to expect.  I was praying the Raspberry sPIn would work and hoping I'd be able to articulate all the steps taken to get the wheel spinning.  I was pretty nervous.
Let me get real with you here, I'm a huge chicken and a big time self doubter.  Almost all my ideas I second, third, and continuously question.  Thankfully, I have supportive family and wonderful friends who hear my doubt and then tell me to get over it.  Making this wheel was a way of testing myself to see if I could do it.  I was pretty proud of my creation.  But this is where self-doubt creeps in. Heading to the Bake-Off, I figured all the brainy gurus of Conway would scoff at my simple coding.  I assumed I would be ridiculed for wiring something wrong or for doing something elementary.
Scared to death, my hands shook as I set everything up.  With a few hiccups in getting the wheel going, great relief came when the wheel turned on and started showing off all it could do.  Once everything was working, my nerves quickly ran away and I immensely enjoyed the evening.  I created yarn throughout the event and talked up fiber arts and how fun it is crafting code.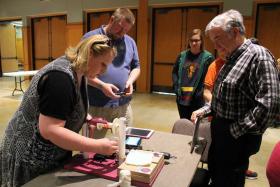 My experience at the Bake-Off was the absolute opposite of all my fears.  The brainy gurus scratched their heads and congratulated my accomplishments.  It was very rewarding and satisfying. It says a lot about our community as well.  Conway is supportive, encouraging, and totally rocks.
Creation is a way of life, whether it be through physical art like handspun yarn or through code and making things work. Don't let anything like fear or self-doubt stand in your way of learning and creating. Get over it and get into it!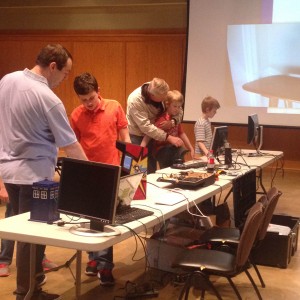 When it was time for the winning project announcements, my family and friends gathered around.  Honestly, I figured the Raspberry sPIn wasn't high-tech enough or my coding was too simple to really win anything.  I figured it might be worth third place, or possibly second, but I would never get first!  I was just happy being there and seeing how the spinning wheel grabbed the public's interest.
Third place announcement went to a Q-Bert Game Simulator.  It was a sweet interactive creation, where you stood on different squares to make Q-Bert move.
Second Place announced.  It wasn't me.  But hey that's okay!  Second place went to a 3D printer server.  It was definitely as cool as it sounds.  The Raspberry Pi was controlling the 3D printer and creating amazing things.  I really thought he would get first place.
First place announcement.  Me…wait…WHAT?!?!?!?!  To my absolute shock, the Raspberry sPIn won first place.  It just proves that when you put your mind to something you can do it. I was also the only woman in the competition. Girls can code too!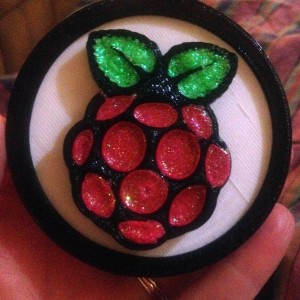 I won a sweet medal printed from the Hendrix 3D Printer and another complete Raspberry Pi set up.  My boys are already dreaming up all the things they want to make with the new Raspberry Pi.  Special thanks to Tony Bates of Arkansas Geek Central for generously donating the prizes!
Throughout the event a team from Hendrix filmed and interviewed attendees and participates.  Check out the video!
Below is the video from David Hinson's website.
Very pleased with the win and huge personal accomplishment.  I'm already planning on improvements and things to add to the wheel.  Laser lights and a fog machine were suggestions offered during the event.  Ha!  I want to add something that counts the yards of yarn being spun and a few other fiber fun things.
Please check out the story in newspaper about the event by Michelle Corbet.
Much more to come from the Raspberry sPIn. Still looking for a good place for it in the studio, but it'll be up and spinning soon.  You can come see it on May 3rd, 2014 during Toad Suck Daze, at The Locals.