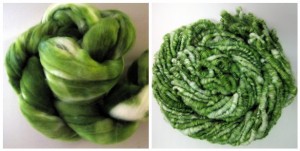 Hand Painted Roving has a life of it own.  It's complexly painted colors once twisted and turn different ways through a spinning wheel or drop spindle can make the most amazing product.
Above is an example of the progression a simple ball of wool took from being painted with professional dyes to being spun into a usable skein of yarn.

Depending on the type of handspun yarn being made, sometimes there are more steps involved.  The above picture of Twilight Progression, shows the original black, red, and white painted roving.  The second picture shows the roving spun on the spinning wheel.  The third shows the yarn, still on the wheel being plied with the sparkle thread.  Lastly, you see the end product, the handspun yarn.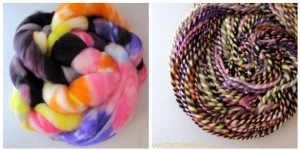 Sometimes, yarn can be surprising.  The above painted roving was light and dark.  The end outcome plying the half of the spun roving together ended up being very different.

The handspun yarn above was from the same painted roving batch.  This shows how two different types of handspun yarn look made from the same colorway.  One was coiled and the second was plied with thread.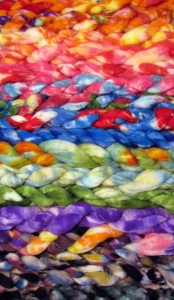 Last week, with the help of two dear friends, we hand painted 19 batches of top grade, merino wool roving.  This week, I'm spinning it all up.  Hopefully I will have a lot more awesome progressions to show off!