A great way to shower the Mother To Be with extra special personalized gifts is to set up a Handmade Onesie Station at her Baby Shower.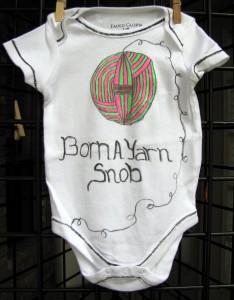 It's creative, social, and fun activity for all!  You do not have to be a Picasso to make a fabulous creation for the new bundle of joy.  Example, this person used creative wording to make this adorable onesie: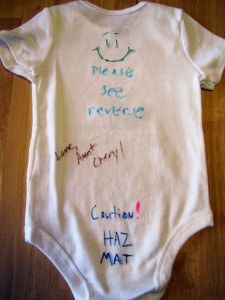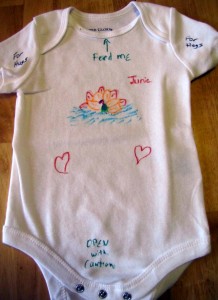 Aunt Cheryl wrote creative and funny instructions all over this onesie.
Things you need and/or can use:
Onesies or t-shirts (remember to get a variety of sizes, babies grow fast!)
Fabric Markers
Wet dyes (like from a Tie-Dye Kit or other Plant Protein Dye)
Plastic Gloves
Aprons or other Clothing Protection if using wet dyes
Puffy Paint
Cardboard
Table
Plastic Table Cover
Drying Area
Originally, I had mixed up some plant fiber dyes that I use on my yarn and fibers.  Bought 36 White Onesies (ranging from newborn up to 12 month in sizes) at a local shop.  I also purchased a variety of colors of Permanent Fabric Markers (both brush tip and bold tip) at a local hobby store.
The morning of the shower, as most hosts know, I was doing 50 million last minute things.  I was already dressed up for the shower when I realized I still needed to put out the wet dyes.  I started getting out the liquid dyes and spilled one of them!  I about had a heart attack because I almost got dye on my nice outfit.  At that point I decided, wet dye with 35 women in fancy outfits was a bad idea!  I ended up just putting out the felt markers.
If you are more prepared than I was, I highly recommend getting aprons or some sort of clothing protection and then go for it with the wet dyes!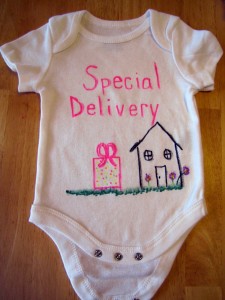 Cut out cardboard forms to slide into the onesie so the dye wouldn't go through both sides.  I just used some old boxes I had and cut out rectangles.
Set up a table and cover it with protective plastic covering.  Set up an area for the onesies to be hung to dry as well.  This is also a super cute way for everyone to see all the creations and oooo and ahhhh over all of them!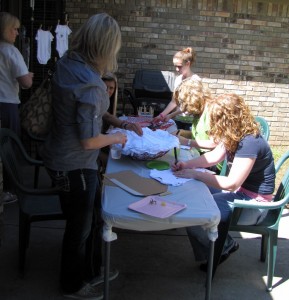 You can either have a dedicated time to paint the onesies, if you are having a small gathering, or just have a table set up for whenever your party guests want to be creative.  At our house, we had 35 people, so we set up the table outside.  It was a gorgeous day!  The outside station gave folks a place to go and an extra thing to do whenever they felt like being crafty.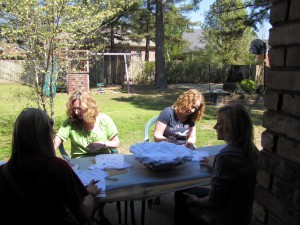 Remember, it's fun, you don't have to be an artist, and you are creating an adorable (and functional) keepsake for the mom to be.  Expand on this idea and make it all your own.  Below are all the onesies made during my sister's baby shower.  I'd love to see the pictures of your creations too!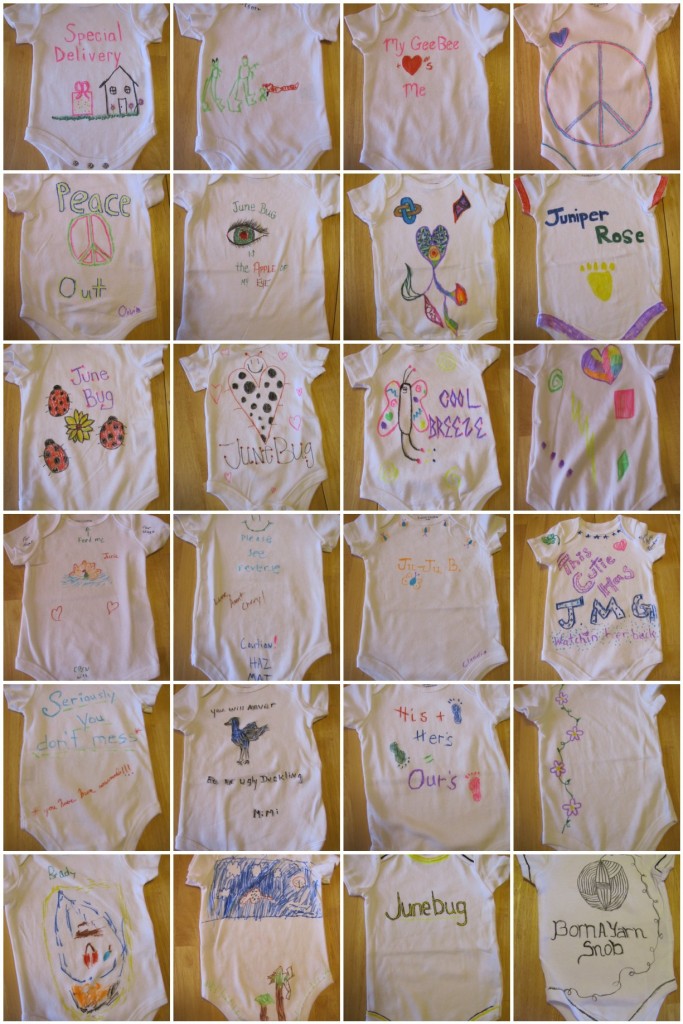 Happy Crafting!!!
Looking for a unique Baby Shower Party Favor?  Why not check out our Felted Soaps?  I'll happily make custom colors to match  the theme of your Baby Shower.