Hey Everyone!
This week at the Twisted Purl studio was really fun.  I started my spinning journey with my head held somewhat high, even though I knew that I was going to be in for a good struggle.  When I arrived at the studio, I helped Cyndi make some carded batts to be turned into Spring time felted soaps.  I always struggle with her requests for these kinds of colors, because I tend to be attracted to greens, dark blues, deep purples, browns, and blacks.  Here are the carded batts that I ended up making.  (Excluding the pink one, that one is waaaaay too bright to have been made by me 🙂 )  Pay close attention to the one on the top of the stack, which I worked extra hard on keeping happy and seasonal.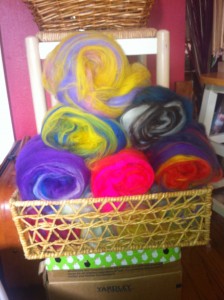 After finishing up with my carded batts, it was time to learn how to spin.  Cyndi taught me on a drop spindle first, since it is much easier to control and think about as opposed to the larger, more complicated spinning wheel.  Cyndi has demonstrated several times how a drop spindle works, and each time she makes it look very easy and speedy.  Two seconds into my first attempt and the spindle was on the floor, and Cyndi was shouting "Drop!"   She likes to think it is called a drop spindle because it drops all of the time, even though it's really just because it moves closer to the ground as you draft more and more fiber.  I continued drafting fiber, making "yarn," and giggling while Cyndi yelled drop over and over.  Can you guys tell which one I made and which one Cyndi made?  Hint: Mine is the most creative one.  Here is also a photo of me modeling my beautiful creation.  (I told Cyndi I was sure this yarn would sell instantly. 🙂 NOT!)
I'm practicing intermittently as I type this post.  I'm getting a little bit better.   I am mostly actually spinning the fibers now, instead of just wrapping them around the drop spindle.  Next week, if I am good enough at the drop spindle, I'll get to try my hand at the spinning wheel.  I'm going to look like such a pro just sitting there, I'm so sure. 🙂  Here is the stage I'm to in my house.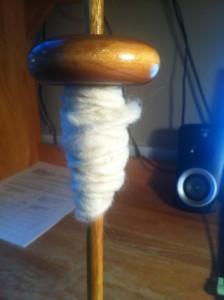 It's starting to look so much better!  This experience of learning how to spin just makes me appreciate what Cyndi does so much more.  It's hard work!  And she is able to do it while watching TV and holding a conversation.  Impressive!
See you guys next week!
Zoe B.