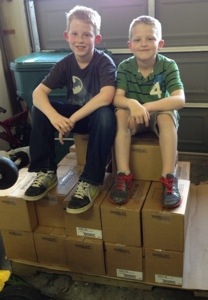 We have been selling a lot of Felted Soap to many Retail Stores worldwide. Recently, my online source for soaps ran out.  Oh no!  I had to figure out a place to get my soaps and fast.  I knew one place I had to order from in very large quantities, spending a very large amount of cash at a time, and having to wire transfer money to the company for payment.  Seriously, in this day and age…who doesn't take credit cards?   I went ahead and put in the large order.
Now, I always think things are going to take longer than they actually do.  I guessed it'd be a couple of weeks before I'd see the soapy boxes and figured I had all the time in the world to clean out space in my cluttered garage.
The rumble of the HUGE Big Rig stopping in front of my house this afternoon told me otherwise.  Now, today was a felting day (so I was pretty messy) but I made a mad dash for shoes and ran outside to greet a very burly bearded gentleman.  I would not have been surprised if he told me he was kin to the Duck Dynasty crew.  Huge guy, but a real sweetheart.
He was given the wrong address and of course was expecting a business address, not a residential.  Really?  Who gets 1,392 bars of soap delivered to their door? Maybe doomsday preparers, Kate plus 8, and just me!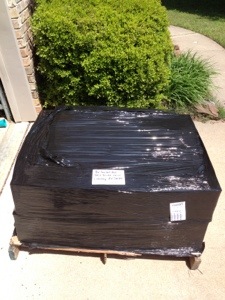 I ran out and squeaked "You have soap for me?"
He replied in a gruff, manly voice "I don't know what I got but are YOU The Twisted Purl???"
I giggled and said "Yes sir!!!"
Guess he had already called the company and they told him to return the soap.  So thankful I had run out right when I did!  I explained I didn't think he was coming for a week or so and apologized for not having the help for him to unload.  He said it was just a little pallet, so no biggie.
I watched him hop in the lift of his truck and open it up.  In the very back of the huge truck sat my pallet.  It definitely looked small compared to the massive inside of his truck and the size of the man unloading.  He pushed the pallet up my driveway and set it down next to the garage.  I thanked him kindly and he said he was just happy to not have to take it back and still had time for lunch.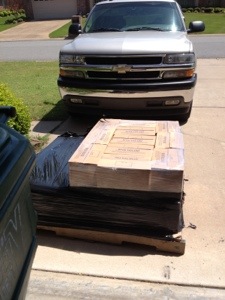 Once the pallet was in front of my garage and almost the same size as the front of my Tahoe I knew this wasn't a "Small Pallet".  I quickly made space in the garage for the pallet and up-wrapped the plastic.  Wow!  29 boxes, each weighing about 15 pounds was some heavy lifting.  I had to move all the boxes off the pallet, move the pallet into the garage, then move all the boxes back onto the pallet.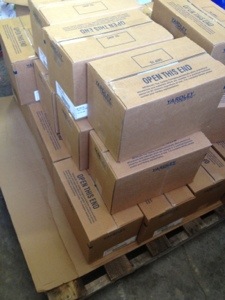 Weight training for the day done!  My boys arrived home shortly after all the heavy lifting was done.  They hopped up on the boxes and demanding photos be taken of them with all the soap.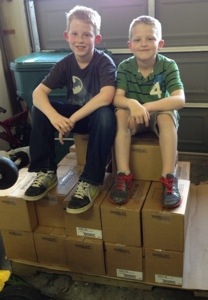 They are just super lucky the nice delivery man didn't come an hour later.  I'd have put them to work!  Before today, the most soaps I had ever ordered at one time was close to 200 bars.
Now the real work begins!  Time to start felting 1,392 bars of soap.  Whew!