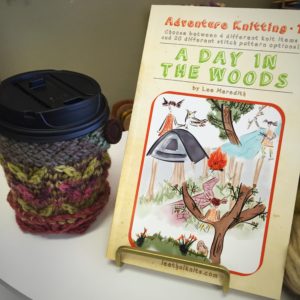 Come join us this Thursday, from 6:00-8:00, as we dive into an adventure. A knitting adventure…
A Day in the Woods is an amazingly fun pattern book by Lee Meredith.
Do you remember those books where you chose your own adventure by turning to a certain page or choosing your path?  This is just like that, but with KNITTING!!!
If you are able to contain your excitement…um what is wrong with you!??  Haha
The way this book works is you pick your path.  Your path is either a Hat, Cowl, Fingerless Mitts, or a Coffee Sleeve.  Then you choose your options like looking at a certain tree etc.  You can use any weight yarn and any size needles and easily make over 100 different pattern variations.
On Thursday, September 29th from 6:00 to 8:00 we will be embarking upon the adventure together creating a coffee sleeve.  You can choose the options of your choice, but we us all being on the same path we can help to orientate you to the glorious options available in the book.
There will be a Facebook Group page for those in the Adventure Club where you can ask questions and show off your projects.
This is just the FIRST in our Adventure Club Knitting exploration.  There are two more books in this series…so we may just be in for a long journey.
Hope you will join us!!!  CLICK HERE TO RESERVE YOUR SPACE