Hey Everyone!  I'm back!!!
After a month and a half of being home, I was ready to be back to the swing of things with classes and with The Twisted Purl.  The first 2-3 weeks of being home on break are always wonderful, but by the time my family heads back to work and school I become bored out of my mind and crave something to do other than watch TV in my pajamas!  Getting back to The Twisted Purl studio the Thursday of last week was just what I needed.  Cyndi and I launched back in with our old ways.  We asked each other about our holiday activities, then Cyndi got straight to work with explaining to me all the new things going on in the studio.  She has perfected the felted soap process, and now the soaps are better than ever, and she has made a few inventory changes.  But mostly, it felt like I had never left.  Then I told her the good news: I wrote an appeal letter to a committee here at Hendrix.  They met many times to discuss the letter, and they decided that my internship can count towards one of my credits for graduation.  So this internship is actually one of my classes!  Everything you are reading and seeing here on the blog, is actually some of my class work.
On Tuesday the real fun started.  Cyndi showed me how to dye fibers.  It was a lot like the tie-dying I did as a kid.  I made some solid colored rovings, but then Cyndi let me play.  Here are some photos of the dying process, and the finished fibers.  Cyndi even spun the two best into yarn!  I think the purple yarn with the gold string is the most beautiful.
Today was an especially fun day in the Twisted Purl studio.  Cyndi took me on a class field trip ;)!  (Woo!)  We went to Hobby Lobby, and roamed around every single isle hunting for things I could use to make a beautiful art batt to be spun into an even more beautiful yarn.  I ended up selecting some ribbon with roses, a headband, some bulky purple yarn, and some green furry yarn, which I referred to as the moss creature.  It was a lot of fun laying out my loot, and choosing bits of fluff hiding around the studio to make my very first. . . . wait for it. . . BASKET OF FLUFF!!!!!!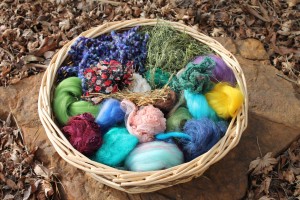 I selected a theme for my fluff so that I would have a solid idea of what I was looking for.  And it was just fun to see how close the yarn ended up matching the theme.  My theme was Claude Monet's Water Lilies.  (P.S. that little rose pile of black, pink, and red was the headband I tore apart.)  Then, I turned the basket of fluff into two similar carded batts.  Do you guys think they look like the water lilies I printed out that are next to them?  Then Cyndi began spinning the batt into yarn. . . .
We finished today with the final yarn, which I think turned out very well.  It has material in it that reminds me of moss, and pink like the flowers on the water lilies.  Over all, I think it is definitely a Monet Yarn. 🙂
Until next week in The Twisted Purl studio!
Zoe B.