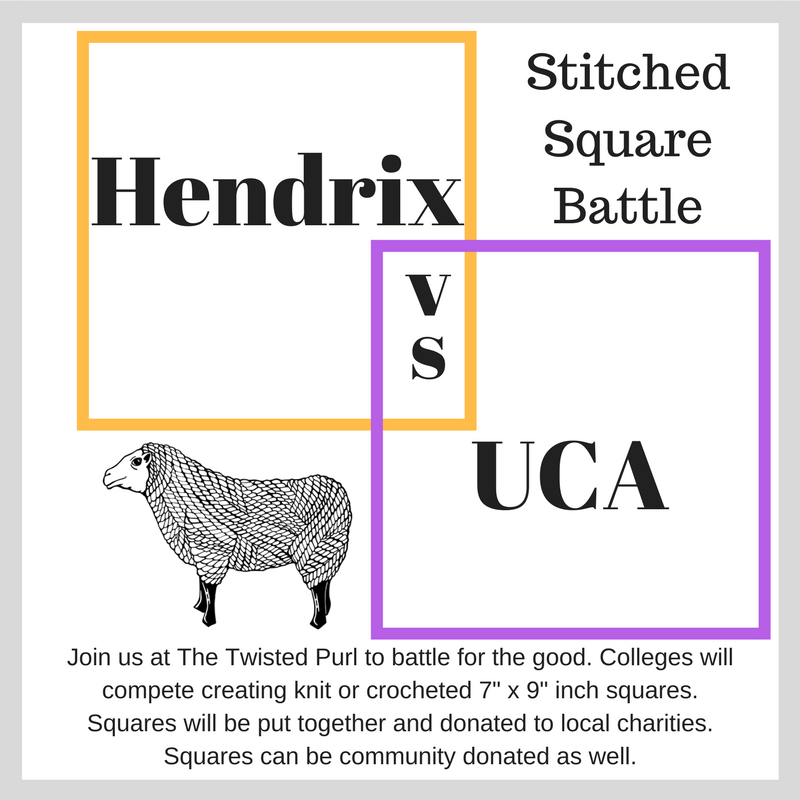 From now until the end of the 2017 Fall Semester, The Twisted Purl will be hosting a battle for the greater good. We're pitting our two local colleges against one another. Everyone loves a good competition…right?
The challenge is to create as many 7 x 9 inch knit or crocheted squares as possible. You can do it!
Come on Hendrix!!!
Come on UCA!!!  
We'll be collecting squares from both UCA and Hendrix. The squares can be knit or crocheted and need to be close to 7 inches by 9 inches.  We've got lots of donated yarn, just pop in and grab some.
Anyone can donate squares for the event.
Come on alumni, professors, and community supporters you can help too!
The squares will be put together to form blankets and donated to local charities. These will be distributed in Warm Up Centers across Conway this winter.
Join us one night a month for a social stitch night at The Twisted Purl from 6:00 pm to 8:00 pm.
UCA STITCH NIGHT: the last Tuesday of each month
HENDRIX STITCH NIGHT: the last Thursday of each month
We have community donated yarn for this event along with needles, looms, and hooks. Don't know how to use any of these things? We've got you covered. There will be people here to help you learn.
Join us in this battle for the good.  Take some yarn bring back some squares…beat the other college.
Wonder which college will win???  Can't wait!