Hi Everybody!
It's been a long time since I've been in the studio, but this week I was back!  Between being sick, Spring break, allergies, and bad weather, I've barely been in the studio!  And sadly, this coming Tuesday is my last day with The Twisted Purl. 🙁  It's been a great experience, and next week you will hear my closing remarks about my experience.
This week in the studio, I helped make soaps!  I made carded batt after carded batt. . .I think I made 25.  That is way more than I've ever made in one sitting!  I made them pretty quickly as I caught up with Cyndi.  I talked about TV shows with her, as well as her family, and what is soon to come with The Twisted Purl.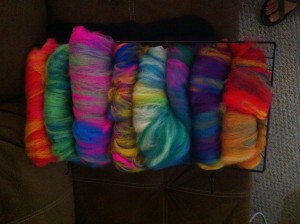 Here are several of the carded batts I made.  Lots of Spring colors and rainbow batts!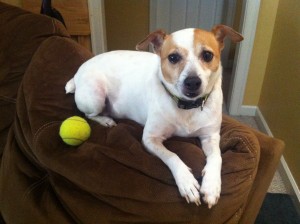 Daisy sure was happy to see me!  (And happy to have me around to throw her ball)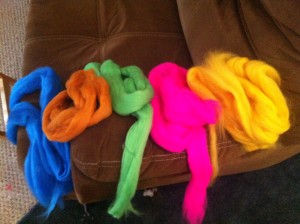 These were my favorite carded batts.  I took these solid colors of bright fiber and added in white to make some really pretty pastel soaps.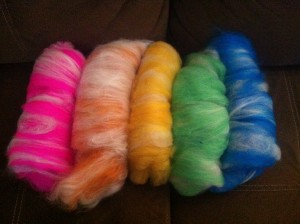 They look like skittles!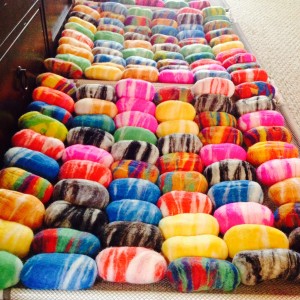 And here are aaaaall of the finished soaps.  Lots of solid colors as well as rainbows and naturals!
Next week I'll conclude my wonderful internship experience.
Until then!
ZoeB