Hey Everybody!  Hope you guys have been keeping warm.  It's been hard around here with all the snow we have been getting, but it looks like it might just turn into Spring.  The highs for the coming week are all in the 60s!  The snow was so bad last week that I wasn't even able to make it into The Twisted Purl Studio.  When this week rolled around I was really excited to see what Cyndi had in store for me.  Since she has been really busy with school stuff for her kids, we were only able to meet once this week.  In the short time I was in the studio, I had a lot of fun.
Have any of you seen on the news or on ebay when someone makes some toast for breakfast and when it pops out it has Jesus' face burnt onto it?  When this happens the people move to center stage on the local news, and then the Jesus burn mark food sells for oodles of money on Ebay.  I've heard the same thing happen with potato chips and hamburger patties.  Well, it happened to me this week.  But it wasn't Jesus.  It was The Twisted Purl Sheep.  Whenever a soap doesn't felt right, Cyndi cuts the felted bits off and puts them in a glass bowl in the hopes that she will one day find a way to repurpose them.  The other day, the bowl was sitting on the table in front of me.  As you can imagine, the thing is full of chunks of colorful fuzz and felted wool, as well as soap dust and chunks of broken soap.  When I peered into the basin, I was in awe.  It wasn't Jesus that I saw in my bits of soap and fluff, but instead a perfect sheep that was delicately placed, as if it were meant for me to see.  I began to jump up and down, and I'm sure Cyndi was thinking I was having a fit, and then I showed her.  She, however, was not full of excitement like I was, but instead was full of laughter.  She told me that she has a hole punch that makes sheep shapes.  I was merely seeing a paper cut out of a sheep that had gotten lost in the glass bowl, and not some strange yarn lord presenting itself to us.  But you have to admit, it does look an awful lot like the surrounding flakes of soap.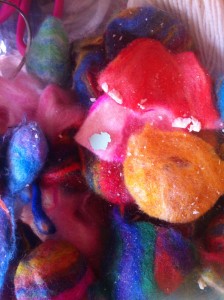 After the mystery of the sheep was solved, I helped Cyndi make some dryer balls and do some necessary labeling and packaging.  She is constantly shipping orders out all over the world, and it is always so interesting to see where her fiber creations are going.
Cyndi told me that next week I will be learning how to spin.  If I'm being completely honest, this stressed me out.  Watching Cyndi spin is always so exciting, but I am a perfectionist, and I know I will be a horrible spinner to start.  Hopefully with some practice, I will be able to find spinning as fun and entertaining, instead of as the daunting task it seems to be today.  My first concern about learning how to spin had to do with worrying that I might break Cyndi's equipment.  That would be bad.  But I was reassured when she told me that I will be learning on a drop spindle, which I can't break.  (But let me tell you, if it CAN be broken, I'm that accident prone person who will find a way.)  Then my perfectionist side showed itself, and I started wondering why I should spin something if it won't be great from the start?  No matter how I feel about it, I will be learning how to spin next week.  I've got to start somewhere.  I'll be the newest Rumpelstiltskin in no time. 🙂
In addition to all the art I make during my time in The Twisted Purl studio, I make my own art as well.  I'm double majoring in Spanish language and studio art.  My Spanish major is never too much work (knock on wood).  Most of my time practicing the language is spent talking with my professor for a couple hours each week, conversing with others in my Spanish classes, and doing moderate amounts of paper writing and reading.  The art major on the other hand takes up almost all of my free time.  For the past three semesters of college, I have been in two studio art classes at once.  This semester I am only in one studio art class.  That class is an independent study in intermediate printmaking.  I'm also in an art history class, but I'm finding the key to that one is really just paying attention in class.  I just finished my first woodcut print edition of the semester.  Before my sophomore year of college I had never done any printmaking.  I decided to take woodcut on a whim, and it has worked out for the better.  I absolutely love it, and am doing woodcut prints for my senior art show next year.  For those of you who might have never heard of woodcut printmaking, it is a type of relief printmaking.  You carve an image into a piece of wood, roll ink onto the wood block, and then run the block and a sheet of paper through the printing press.  I just completed a three color reduction woodcut.  It isn't the most colors I have ever done on one block, but it is the biggest block I've ever carved at 22in X 32in.  To do a color reduction woodcut, you have to switch something in your brain over to art-speak.  Since it is a reductive process, you have to always have the word "remove" on the tip of your tongue.  I started by drawing my image onto my board, and then carving the things I wanted to print white.  (The eyes.)  Then, I mixed a pea green color of ink and printed it 15 times.  I cleaned my board, an carved what I wanted to stay pea green.  This means I cut away the majority of my background.  Then I mixed a purple color of ink and printed on top of the previously printed 15 images.  This is when it gets tricky.  You have to line up your paper to your board EXACTLY right every single time or you get a kind of 3-D effect.  You also have to make sure you roll the same amount of ink in the same motion each time.  Since I was assigned to make an edition of 10, I had to make sure I had 10 that were exactly the same.  Margins all clean, and no 3-D looking mess ups.  After I printed the purple color, I carved what I wanted to stay purple.  This left me only with a cat face to print in black.  When it was all done I labeled them all and packaged them up to be turned in to my professor.  The title is "Sneaking" and you can see some photos of the process below.  It took me three weeks of constant work!  I've actually just made my first couple of sales EVER!  I sold two of these prints to a couple of facebook friends.  I've included a photo of Jim Boyd's cat named Wampus Kat Kat Kat.  He bought one of the prints because of the resemblance to his cat!
Until next week when I get back to The Twisted Purl Studio!
Zoe B