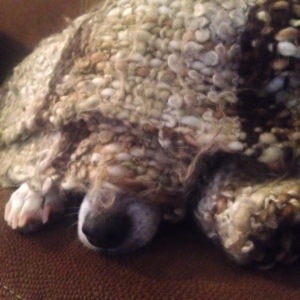 Our sweet dog, Daisy, is great at covering up and hiding. She actually pulls the folded blankets up off the back of the couch and wraps herself up in them!  Sometimes she even pulls multiple blankets and makes a comfy looking blanket fort for herself.  But, put a handmade sweater on her she looks like she has been given a death sentence.  Go figure!
The start of the new year has been a bit like that for me, I've wanted to just stay in bed with the blanket over my head.  No real reason!  Just with all this cold weather, my toasty bed is just such a warm, comfy spot.
Staying in bed is not an option though!  I'm a work from home mom of three boys and run a full time (over time/all the time) company.  I definitely love every moment of it, but it keeps me busy!
This week, I've received a custom order for an all natural, alpaca scarf.  Alpaca naturally come in a variety of beautiful colors.  Here's the basket of fluff, containing a good color mix of alpaca.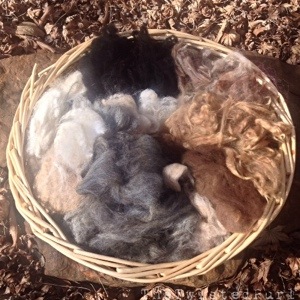 I'm particularly found of this alpaca. It came from my favorite local alpaca farm, here in Conway.  Once I picked free the few pieces of hay remaining in the fiber, I blended the colors together through a drum carder.  Below are the carded batts created.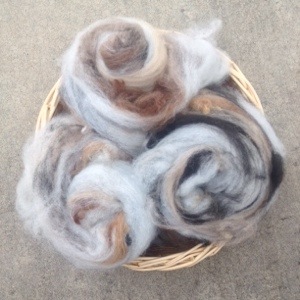 The fiber then went through the spinning wheel and turned into a new all natural alpaca handspun yarn.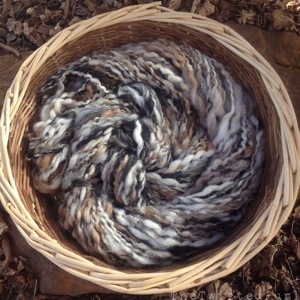 Finally, below is the finished scarf.  This was a custom order and will be given as a birthday present next weekend. Hope she loves it!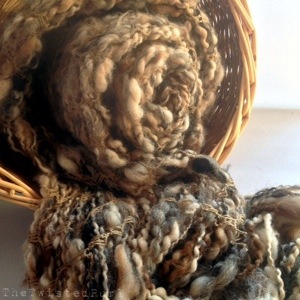 Finishing up the week on a natural note, I made several new sets of wool felted dryer balls.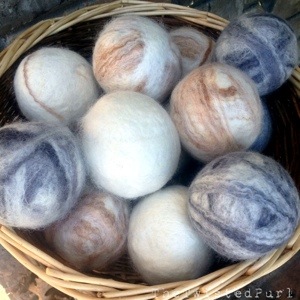 Lots of exciting things are coming up in the next week.  We have a new intern starting on Tuesday!  Zoe is starting back on Thursday too. 🙂 Lots of new goodies are coming your way.