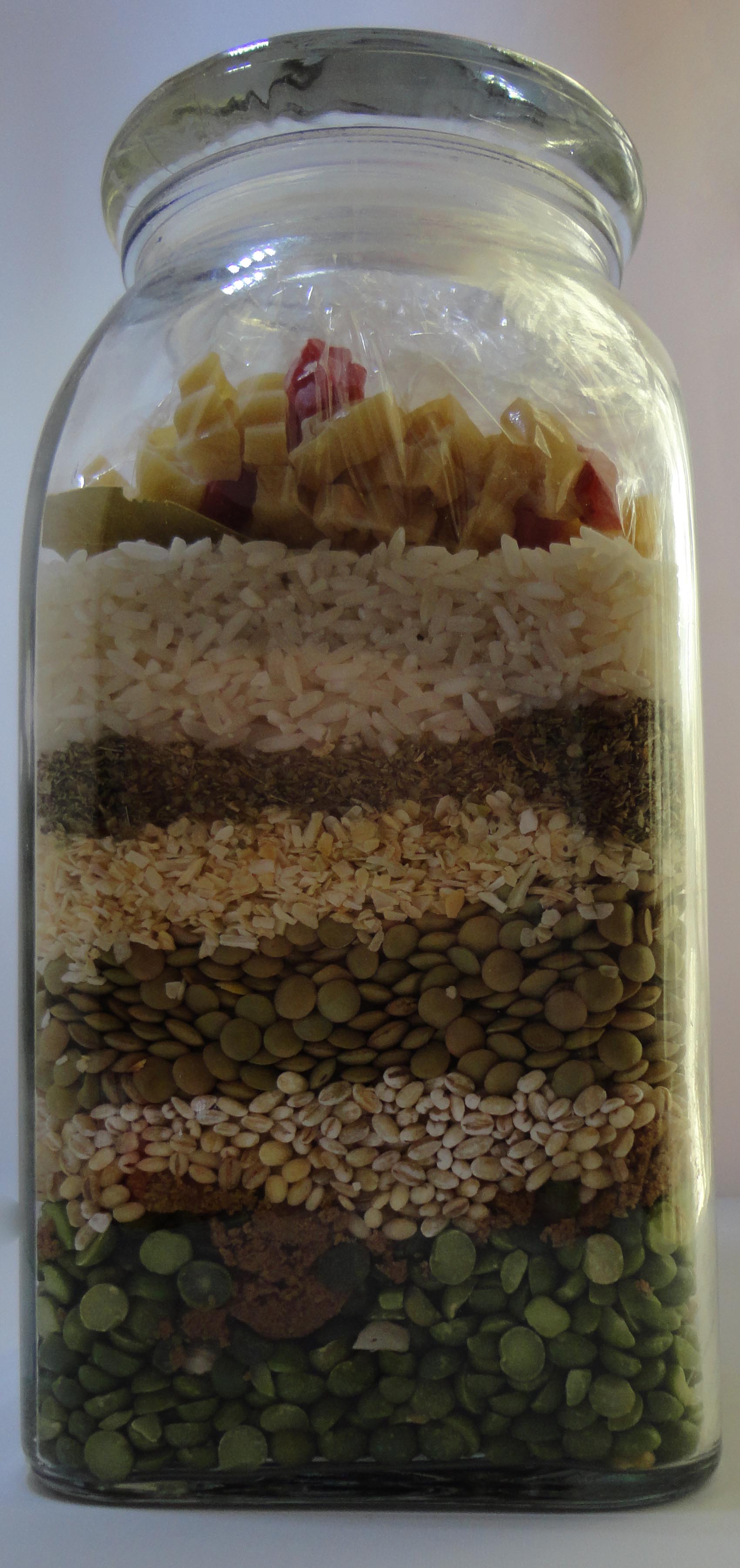 Here's a quick little handmade gift you can make to give to all the Razorback fans in your life.  Of course, you can us different pasta, but we had these super cute Razorback Pastas and Woo Pig Soupie was a must make for our holiday gift giving.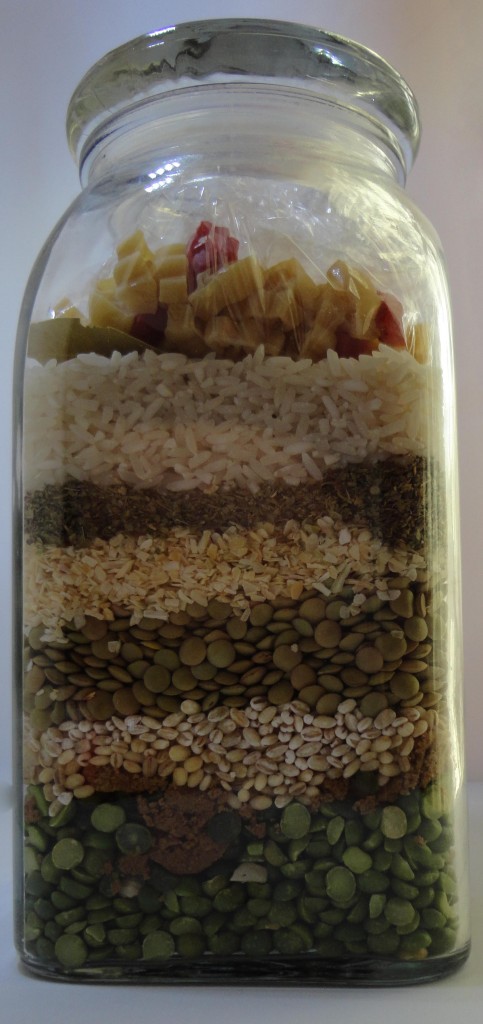 This Christmas, I wanted to do something a little different. I try to give a little handmade something to my friends and my husband's coworkers and boss every year.  In addition to the handmade cookies we make for my husband's entire crew (what a production that is!).  One of my boys had a school fundraiser with pasta and I knew exactly what I had to make.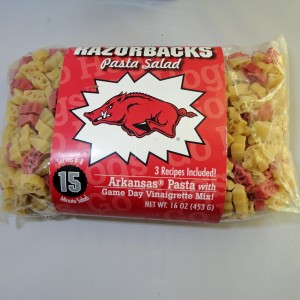 A dry soup mix in a jar is the perfect thing to give!
We gathered up all the materials and laid it all out on the island.  We made nine- 3 pint jars, it was quite the sight.  Unfortunately, I didn't get any photos of the production line, but you can imagine! I bought the 3 Pint Jars at Hobby Lobby.
Here's the dry ingredients you need to gather:
Ingredients:
1 cup dry split peas

2/3 cup beef bouillon granules

1/2 cup pearl barley

1 cup dry lentils

1/2 cup dried onion flakes

4 teaspoons dried Italian seasoning

1 cup uncooked long-grain white rice

4 bay leaves

1 cup uncooked Razorback Pasta
Carefully layer in this order: split peas, bouillon, barley, lentils, onion flakes, Italian seasoning, rice, and bay leaves. Place the pasta in a plastic bag or plastic wrap, and place in top of jar.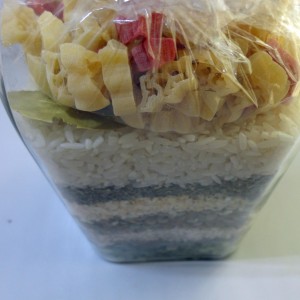 At first, I really didn't want to put the pasta in plastic just because of the look, but it does make it easier to remove for cooking.  If I make these again, just for looks and not for actual consumption, I would place the pasta directly in the jar with no wrap.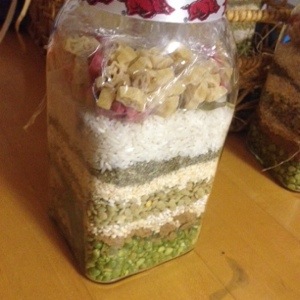 After much family debate, our youngest came up with the idea of calling the soups "Woo Pig Soupie" (he's brilliant…must take after his mom HA!).
I used a Razorback ribbon to wrap around the top of the jar.  Then printed out the labels with instructions on how to cook and what extra ingredients need to be added.
Print a label to put on the soup with this information:
[box style="rounded" border="full"]
ADDITIONAL INGREDIENTS:
2 pound ground beef, black pepper to taste, garlic powder to taste, 2 (28 ounce) can diced tomatoes – undrained, 2 (6 ounce) can tomato paste, and 6 quarts water.
TO PREPARE SOUP:
Remove pasta from jar, and set aside. In a large pot over medium heat, brown beef with pepper and garlic; drain fat. Add tomatoes, tomato paste, water, and soup mix. Bring to a boil, then turn heat to low. Cover, and simmer for 45 minutes. Stir in the pasta, cover, and simmer 15 to 20 minutes, or until the pasta, peas, lentils and barley are tender.[/box]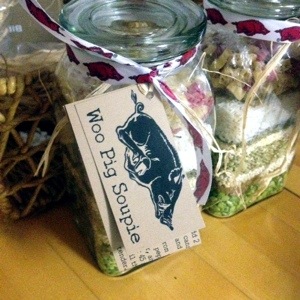 Because all of our friends are not Razorback fans (can't believe we have such people in our lives…I know 😉 ), we also made a Roll Tide Soup with Alabama pasta and a Rock Chalk Jayhawk Woo Pig Soupie (for a house divided with 1/2 cup Jayhawk Pasta and 1/2 cup Razorback Pasta).  The possibilities are really endless…but of course I love my Razorbacks, so in my book, "Woo Pig Soupie" is the best!
Hope you had a very Merry Christmas holiday season and a happy and safe New Year celebration.  We here at The Twisted Purl are looking forward to 2014 and all the fun things it will bring.