In the summer of 2013, a good friend (and phenomenal potter), Chris Massingill, suggested hiring an intern to help with the constant workload.  I had never thought my business would qualify, basically because I work out of a home studio and it's just me.  I always thought of internship being for huge corporations…like Google.  She assured me that all sizes and types of businesses hire interns.  She worked for a potter, one summer, mixing glazes right out of a home studio.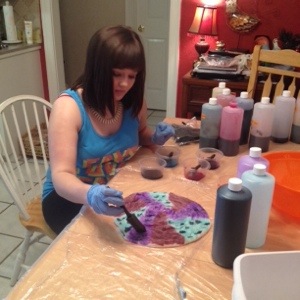 Being a big planner, I had to do my research and of course, put together a kick ass intern program.  There were a couple of things I knew up front.  There's really not a tremendous profit in what I make.  The internship would be unpaid.  Okay, so that made me feel pretty awkward.  "Hey, how about you come into my house and do some work for me, but yeah, I'm not going to pay you!"  *gulp*  So with no money being offered, this internship must be a mutually beneficial relationship!  Yeah, they are working and doing some of the remedial tasks associated with running a business, but this would be fun and very educational as well.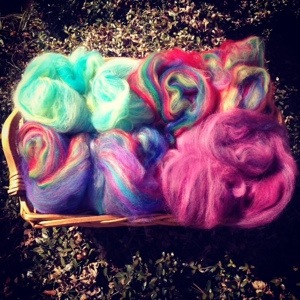 The program consists of 8 sessions (which can last a week or several weeks).  There is a different focus each week and the intern learns all types of tricks and tips while being here. I'm passionate about fiber arts and yarn, and yarn, and did I mention YARN?  I wanted to partner with like-minded folks and pass on the passion.  Also, let myself be inspired by their creativity and energy as well!  This internship is a partnership.  Each intern is learning how to dye fibers, create carded batts, felt, and spin. Additionally, they learn what it is really like to run a full-time craft business.
Last Thursday was the first day Zoe played with dyes. I was so pleased with the outcome!  There were several colors needed for felted soaps but after that I told Zoe to have fun and paint whatever colors she wanted.  I shared with her a few techniques including a couple different ways to lay out the fiber and explained how the colors do bleed together.  Once the fiber got over
freezing, defrosting, and drying
, I couldn't wait to turn it into yarn!  Above is photographs of both the hand painted roving Zoe created and the finished handspun yarn I made over the weekend.
As the weeks go by, please keep an eye out for blog posts from both our interns, Zoe and Kate.  They will be sharing about things they are learning and their journey with The Twisted Purl.  I adore my intern partnership with these two girls.  They have lots to say and you'll love hearing from them too.  Also, there will be lots more from me on all the fun things happening in the studio. We will have a few really big announcements soon too!  Will share more as soon as I can.