In the midst of painting, moving, and organizing I've been working on upcoming classes and events. It's hard! Being my own boss and running this business requires a lot of hats.I get super overwhelmed and just freeze up at times. These are the days where I just want to sit in the corner and knit. Realistically, what ends up happening is I start a new project and it becomes one more thing in the long list of things that must be finished.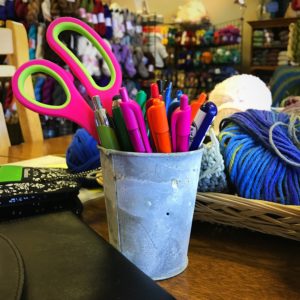 Speaking of, you would never believe how many UFOs (unfinished objects) I found while organizing for the move. Sad, neglected, partially knit items that had high hopes of growing up to be something fantastic.
We must have a kill the UFO party. Use laser focus and get it done!
Hope you aren't dragging too bad with the loss of an hour this weekend. I hate Daylight Savings. Doesn't exactly help with laser focusing.
If you are actually looking for a new project we have a Granny Square Shrug class on Wednesday at 12:00. Bust out a cute spring shawl in just a few hours. Bring a size H crochet hook. Cost is $35 and includes instruction and yarn.
What do you do to stay focused and get stuff done?