Hey everybody,
I hope you all read my introductory post that Cyndi posted earlier in the week.   I'm excited to have everybody along side me through my Twisted Purl journey.  I'm just finishing up my first week as an intern at The Twisted Purl, and can't be happier that I was selected for this amazing opportunity.  I'm already learning so many new terms, and learning how to make so many new things.  I don't know how many of you guys know what a carded batt is, or what a drum carder does, but I sure didn't before this week.  Next week I get to learn how to dye fibers, and maybe will get to learn how to spin on a spinning wheel, woo!  Right now, all I know is that I'm sure I'll know a little more about spinning past my current knowledge (provided by Sleeping Beauty, of course.)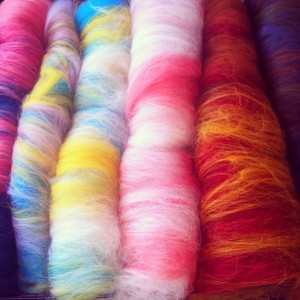 Here are some of the carded batts I made this week!
With Dazzle Daze just around the corner, I've been put right to work learning how to make felted soap.  I've helped make the essential materials, and helped package and label the soaps, and I've even watched the HUGE delivery truck bring us more soaps to felt!  I'm really excited to try a felted soap for myself.  (I'll be sure to report back with how awesome it is, because I'm sure it's life changing soap.)  I've also really enjoyed getting to know Cyndi.  Turns out, we both have strong roots in California, and we watch most of the same TV shows.  It gives us a lot to talk about and share while we work, and keeps us from going insane by way of felted soap. 🙂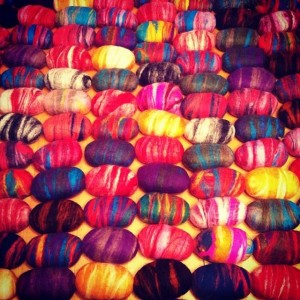 It's really exciting for me to be a part of The Twisted Purl.  Besides learning how to make many interesting fiber creations, I'm also learning first hand how to run a business.  The organization skills you have to have to keep track of all of the orders and the time management skills you have to possess to fill the orders in a timely manner are crazy, and I'm so impressed that Cyndi has been doing all of it, while keeping the truly important quality of hand made intact.  I'm grateful to be able to learn from her, and also ready to help her with anything The Twisted Purl does, especially during such a busy time of the year.
I hope you all stick with me through this journey, and maybe even learn a little bit along side me.
I get back to felting on Monday.  Until next week,
Zoe B.