Hey Everyone! This week has gone by soooo quickly, but it has been a full one in the Twisted Purl studio!  On Tuesday, I had a pretty simple day in the studio.  Cyndi was getting ready for the Raspberry Pi Bake-Off, and was busy programming her creature, so I helped her by making some carded batts.  She needed Spring colors, which as you all know is quite difficult for me.  I think these are my best happy carded batts so far!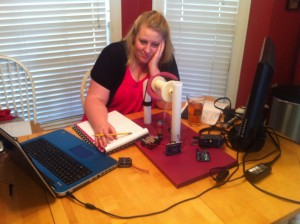 Here is Cyndi working on her Pi.  (And probably giving herself a headache.)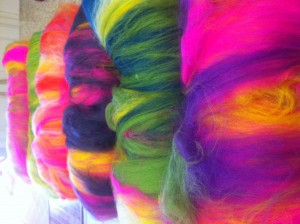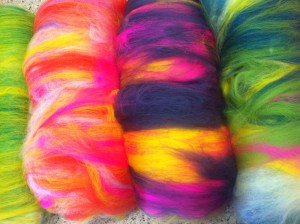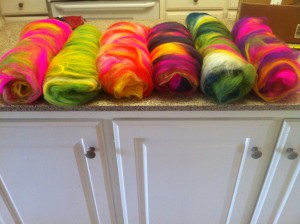 I love looking at all of them lined up on the counter.
There are lots of bright pinks and yellows going on in these.  They are super bright, which was a lot easier to handle with the weather outside being so beautiful.
This Thursday I finally got to meet Kate!  We didn't have much time to talk because we got straight to work learning how to make felted soaps!  Although we both knew the ins and outs of labeling and packaging, and even knew how the soaps were made, we had never made them ourselves.  Cyndi is a felted soap pro.  She told us about the science experiment that was figuring out how to make the felted soaps the best way possible.  After trying many different methods, she discovered the ultimate way to felt soaps.  (Which is why hers are the best ever.)  She passed her knowledge on to Kate and me, and we were able to practice together.  I'm excited to see how the soaps we made turned out.  Next week we get to learn how to make some designs on felted soaps!  Wow!  Here are some of the soaps as we were making them.
The last two yellow ones are my favorite.  (One made by Kate and one made by me.)  They remind me of little popcorns!  Or golden eggs!
Until next week!
Zoe B.