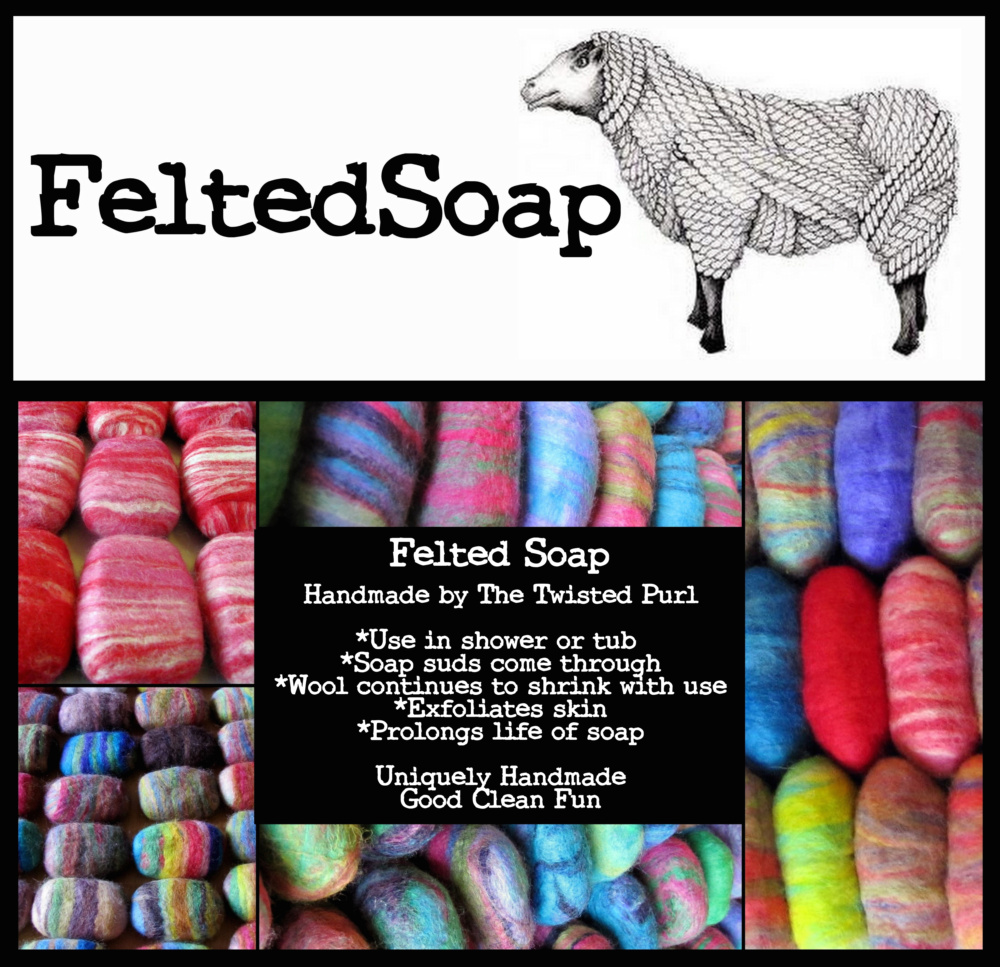 Felted Soap is an exquisite gift for yourself or to give to someone else. There is no need for a wash cloth or a loofah…just take your new felted soap into the tub or shower and it gently exfoliates your skin. As you use, soap suds come right through and the wool will continue to felt (shrink) around the bar of soap until you are left with a little scrubby, perfect for use during cleaning.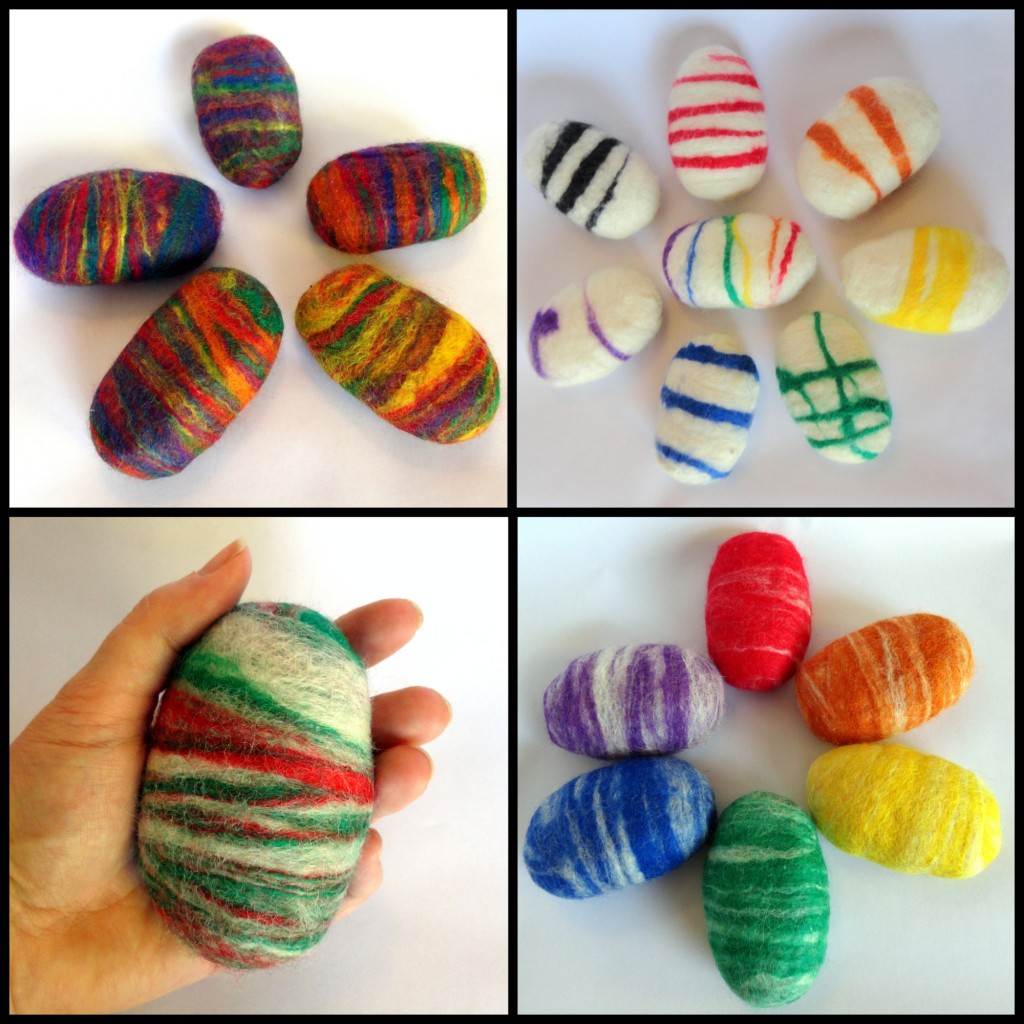 *Exfoliates
*Prolongs life of soap
*Fun to use
The soap bar is wrapped in multiple layers of wool fibers and then felted, or manipulated, until all the wool has matted and adhered to the surface of the soap.
~Using Felted Soap is Good Clean Fun~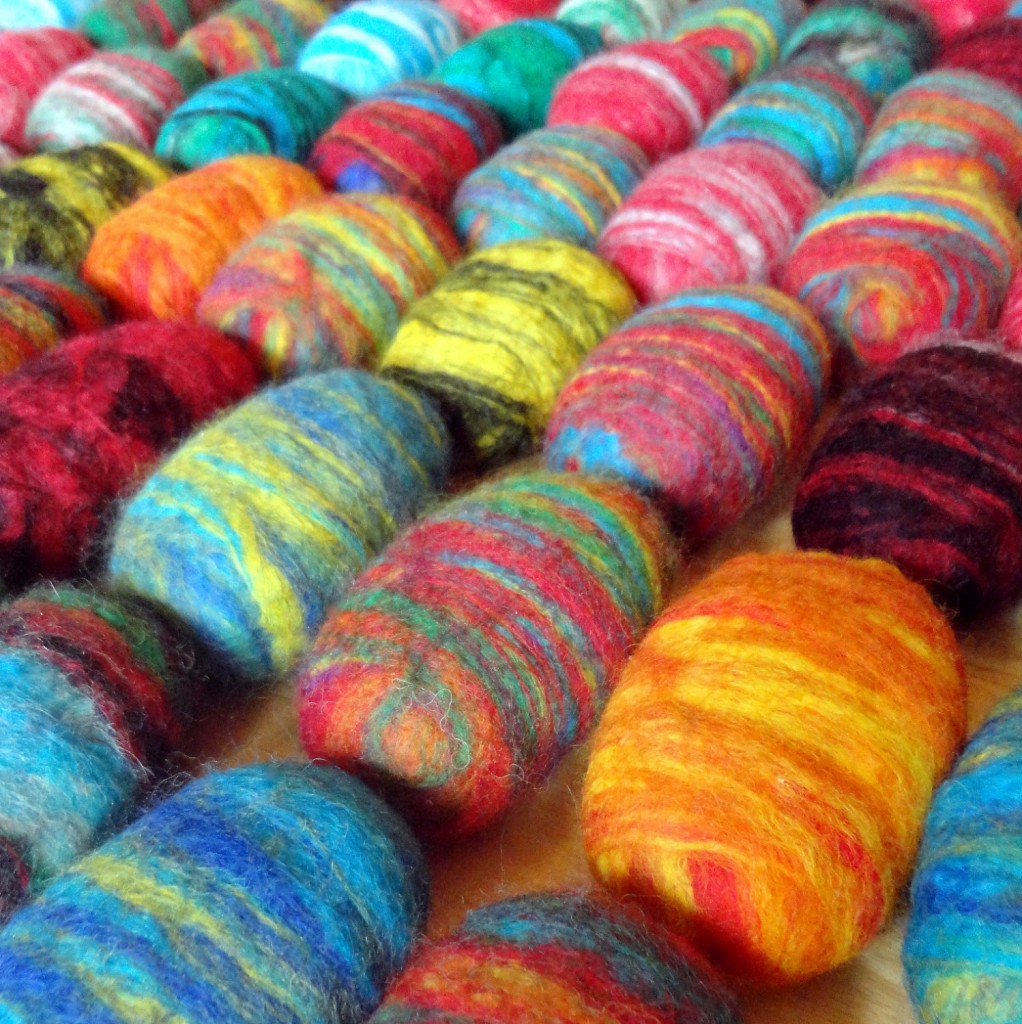 INTERESTED IN ORDERING?
If you originally purchased a bar of Felted Soap at a local store, please shop locally again, if possible.  If you can not find our Felted Soap in your area, please CLICK HERE for ordering information.
Interested in making your own?  FELTED SOAP KITS ARE NOW AVAILABLE

INTERESTED IN WHOLESALE?  PLEASE EMAIL CYNDI (@) THETWISTEDPURL.COM.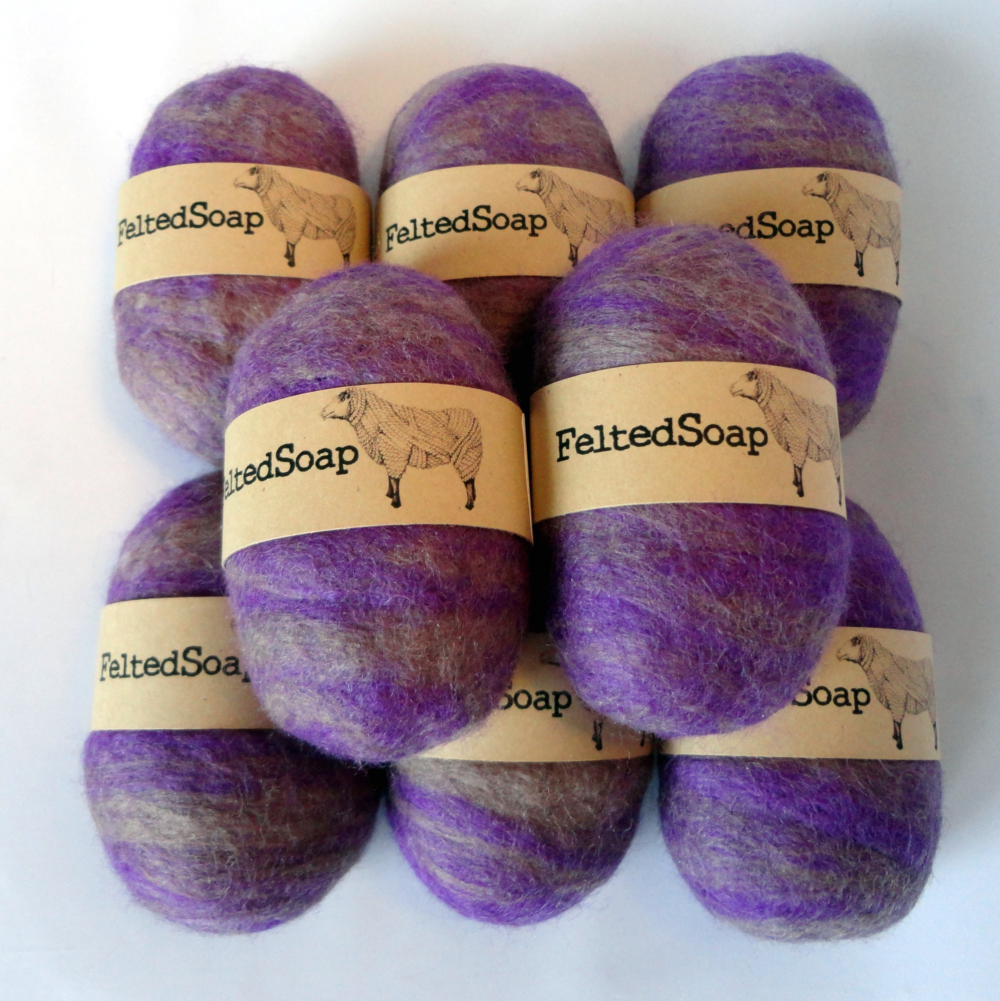 FAQ
What is Felted Soap?
Felted Soap is a bar of real soap, with wool felted over the surface. The process of 'felting' makes the wool adhere and mat together so it forms a solid coat over the soap.
Why Use Felted Soap?
First and foremost, using Felted Soap is Good Clean Fun! The soap suds come through the wool. The wool will help to exfoliate your skin, so there is no need for an extra washcloth or loofah. The wool makes the soap less slippery. Felted soap has a much longer life span than your typical bar of soap. Lastly, Felted Soap is pretty. That's why I like to use it.

What Kind of Soap do you Use?
A large 4.25 ounce bar of Yardley's gentle Oatmeal & Almond bar combines real oat grains and almond essence. It has a very pleasant light scent.
We are happy to make a custom order for you with any brand of soap you'd like, additionally pricing will apply.
CLICK HERE for a more detailed description of how we make felted soap. (PLEASE NOTE: we no longer use raffia as pictured in blog post link. Each bar is individually labeled with The Twisted Purl Sheep Logo & Felted Soap Bands made from recycled kraft paper with product information on back.)
We would love to have you join in our Handmade Journey by liking us on Facebook.  Thank you so much!
Our Felted Soaps are available in 40+ stores worldwide & through our website, at The Twisted Purl shows & festivals, Conway Locally Grown, and our Etsy Store.

Interested in Wholesale?  Please send an email to cyndi (@) TheTwistedPurl.com or CLICK HERE to subscribe to receive our Wholesale Information.