We've been on a crochet kick in the shop. Hilary, our fantastic crochet teacher and shop assistant, has been inspiring me to dive deeper into the hooker world.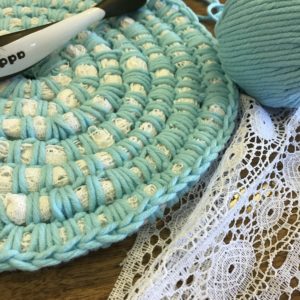 I like to browse the What's Hot Now section on Ravelry just to see what's trending and to stay on top of all the lovely patterns you will want to create. Being on the crochet kick and working on my first toe up, two at a time knitted socks stumbling upon this pattern was just too cool.
It's the Spiral Socks by Ooh I Love it! and it's a free download on Ravelry.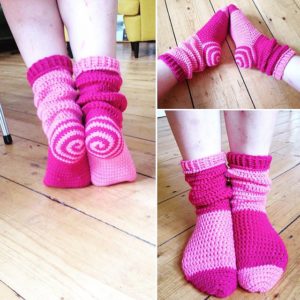 I'm going to start this soon. Probably in Babe Cotton. I bet they will be super soft!
What's coming up?
Join us to learn how to Crochet your First Hat class tomorrow from 12-2
I haven't forgotten my knitters! If you are looking to learn how to knit tomorrow is our Learn to Knit Class starting at 4:00.
On the new shop space news I've met with the carpet installer and we have a date!!! Carpet will be going in THURSDAY! This means we can seriously look at a date for the Grand Re-Opening party. Woot woot! I'm just a tad bit excited.