CLASSES
GET YOUR DYE ON (A Hand Painting Experience):
Learn the different techniques behind hand painting roving and yarn.  Paint the fiber of your choice and leave with your very own creation to spin or knit with.
SPINNING MAKES THE WORLD GO ROUND (A Beginners Guide to Hand Spinning Yarn):
This is Spinning 101.  Learn the basics and leave with the knowledge of how to spin and create your own yarn.  Class includes materials and use of spinning wheel and drop spindles.  If you have your own wheel, please bring it!
DON'T FEAR THE FUNK (The Art of Making Funky Fun Art Yarns):
Need to have prior knowledge of spinning before taking this class.  Learn several different techniques for turning your yarn into art yarn.  Learn to Coil, Thread Ply, plus how to add different fiber fun into your wheel.  Bring your spinning wheel!
FELTED SOAP IT'S GOOD CLEAN FUN (How to make Felted Soap):
This is a great class for all ages!  Learn the different techniques behind making felted soap.  Learn how to make patterns, shapes, and use a multitude of dyed roving to make your own soap.  This class is all about good clean fun.  Groups up to 20 can takes this class at a time.
DEMONSTRATIONS:
FROM SHEEP TO SCARF (A Complete Demonstration of How Yarn is Made):
Does your group have an interest in learning the ins and outs of how yarn is made?  This is the perfect demonstration for you!  I bring my wheels, drop spindles, knitted goods, and a large variety of different types of fiber for your group to see and touch.  See all the different ways a ball of fluff can turn into yarn and how that yarn can be transformed into your favorite hat, scarf, or pair of socks.
HOW ON EARTH DO YOU PAINT YARN?
In this demonstration, learn the basics of how yarn and fiber is painted.  See the different ways to wrap fibers so they stripe, become variegated, and more.  See a wide variety of yarns and art yarns.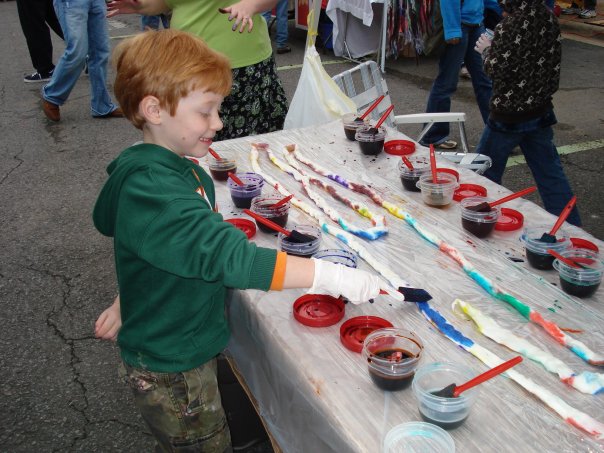 ADDITIONAL INFORMATION:
Classes and Demonstrations are available for Groups or Individuals.  Prices vary depending on the amount of people taking the class and the location.  I love helping you get to the next level on your crafting journey & adore demonstrating something you have never seen before.
If you would like more information about any of the classes above, please fill out below form. You'll get a more detailed description of the class and cost.
IN THE MESSAGE SECTION PLEASE INCLUDE:
Which class or demonstration?
How many will be in your group or if this will be a Private Lesson?
Your location
 If your group meets for a certain amount of time (ex. only Tuesday Night from 5:30-7:00) please let me know so I can adjust the class curriculum and pricing appropriately.
Any other information in regards to your group or your situation you feel I need to know.
Thank you and I look forward to hearing from you!
Even More Coming Soon!