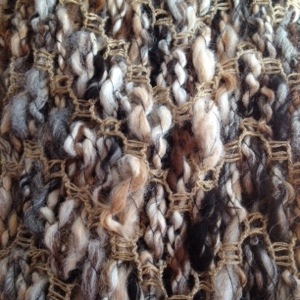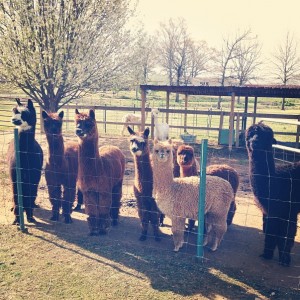 Early this spring, I had the amazing opportunity to attend Sweet Clover Alpaca's shearing day.  I really got to know these adorable animals and their gracious owner.  I've fallen in love with the unbeatable softness of the alpaca fiber.  Look at all that cuteness…Aww!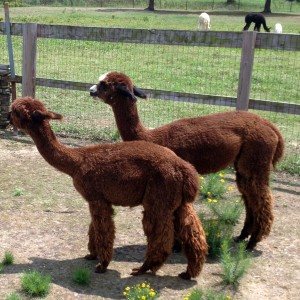 I came home with bags and bags of alpaca.  (Bags and bags and bags)  Thinking oh yeah, I can spin this up in no time flat.  Ha!  If only all I had to do all day was spin, then maybe. Look at all the colors and did I mention the softness.  Yum!!!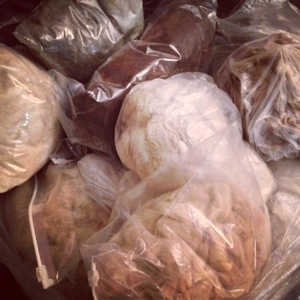 The idea of being able to spin local alpaca was so delicious.  Alpaca raised right here in Conway and then turned into handspun yarn here too. Talk about keeping it local!  There's no better way then this.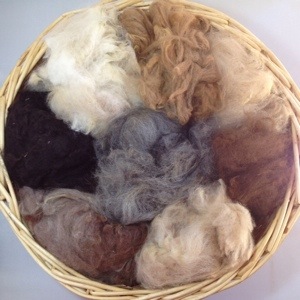 Pictured above is a basket of the large variety of the colors found naturally in Alpaca.  I took the basket of fluff and blended it together through my drum carder to mix all the colors.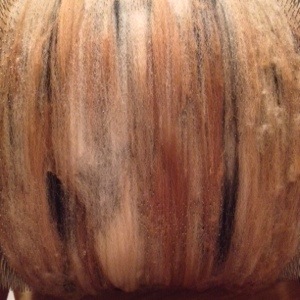 The fibers are blended on my drum carder to become a carded batt.  Carded Batts are easier to spin.  The drum carder lines all the fibers up going the same direction which makes spinning on a spinning wheel faster and smoother.  Plus, although alpaca are a whole heck of a lot cleaner than sheep, the drum carder helps remove excess hay and dirt before spinning.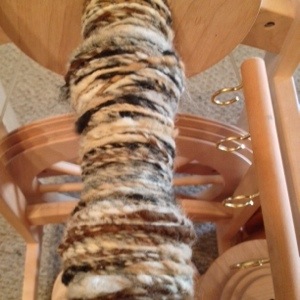 This is the yarn on the spinning wheel being turned into handspun yarn.  First the yarn is spun directly from the carded batt to fill up the bobbin.  The fiber goes through the spinning wheel once, it can then be considered a finished single ply yarn.  I like to ply my yarn either with a strong thread to add texture, or with itself depending on the colors.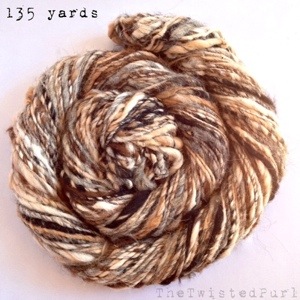 Above is the finished alpaca yarn.  After this step, the yarn has is rinsed and the twist is then set.  Being this fiber is directly from local fiber, some hay and dirt is completely washed and cleaned from the yarn.  Although a lot of the extra stuff gets pulled out while spinning, the yarn gets a good rinse to remove any excess dirt and barnyard.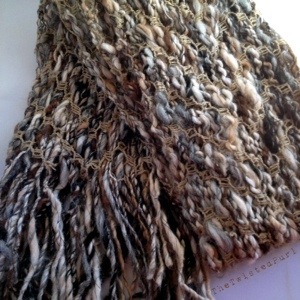 Here's a finished scarf made with the above alpaca.  It was hand weaved. Simply divine to touch!  Wrapping up with this on a cold winter's day would be the best! That's the entire journey: farm to fluff to carded batt to spinning wheel to yarn then finally into a scarf.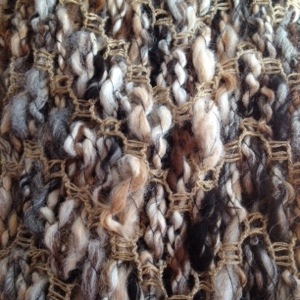 Pictured below is Caspian, another Sweet Clover Alpaca.  He was a Cria (which is a baby alpaca) and I was fortunate enough to watch his first shearing and buy the coat.  His fiber was so fine and full of fun crimp.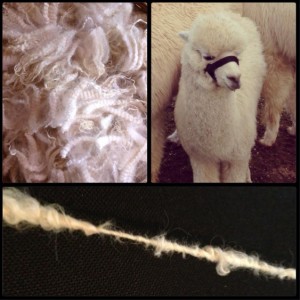 The yarn spun into what looked like a boucle style yarn, with little wispy curls all around.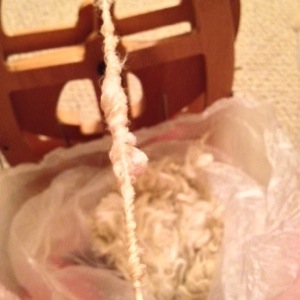 Since he was such a little guy, there were only two skeins of yarn made from his gorgeous first coat.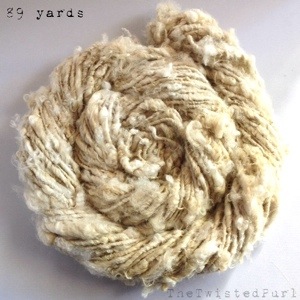 Here are a few more skeins of finished alpaca.  The all natural colors are perfect.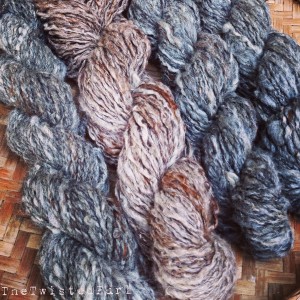 This last one has a touch of added bling with sequins on the thread.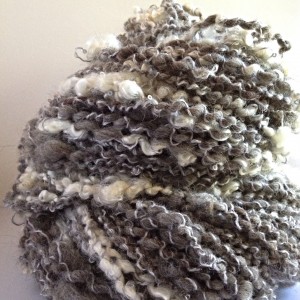 Please let me know if you have any questions. I'm working on putting together a few more "This is how it's done" type of posts.  I tend to ramble on and on about spinning and carding and felting and realize a lot of you do not know the variety of steps or even what the heck I'm talking about.  Here is a earlier post with a video showing how fiber goes from fluff into yarn using all the tools mentioned above.