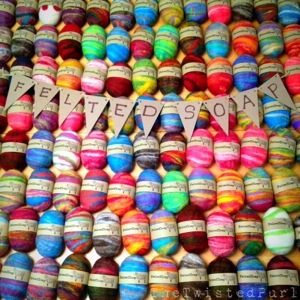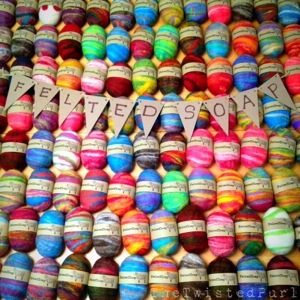 The last few weeks I've been consumed with Felted Soap making.  Tons and tons of soap!  With Dazzle Daze behind us and Christmas creeping around the corner, everyone wants a bar or two of soap to stuff in stockings and give out to family and friends.
If you want to get a bar or two of Felted Soap please check out our Etsy Page and be sure to order before December 15th for Christmas Delivery.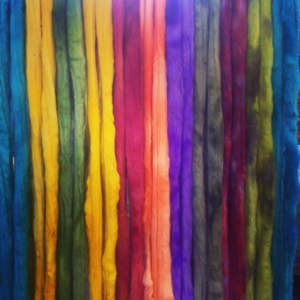 I had a massive dye day on Wednesday just to keep up with all the fiber needed to fill the orders.  Above is the fiber hanging out to dry.  We are still making about 150-200 soaps a day just trying to keep up with orders.  My new intern, Zoe, is a rock star and TONS of help!!!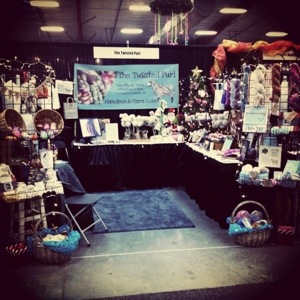 Dazzle Daze 2013 is now just a memory but it sure was a successful show and I had an absolute blast.  Thank you so much for coming out to see me! Above is an overview of our entire booth.  Below was the front display of our Felted Soaps.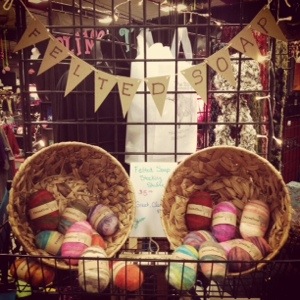 We also had an inside felted soap display using an old suitcase found at a second-hand store.  It's my favorite way to display the soaps.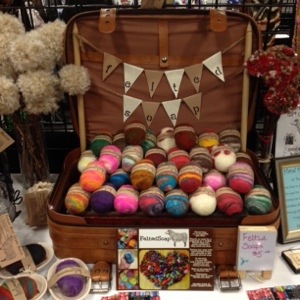 I could not have done this huge three-day event without help and I have to give a tremendous thanks to my booth helpers.  Girls night out Jeanetta and I giggled our way through the evening.  Claudia and I counted boots and had a blast Friday morning and part of the afternoon.  My step mom, Debbie, relieved Claudia on Friday afternoon and was a huge help all night. Saturday was sister day in The Twisted Purl booth.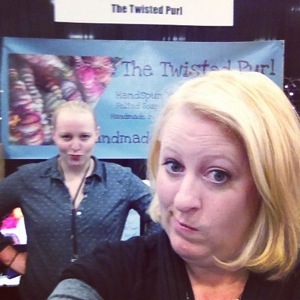 Yeah, we are a bit goofy (Twisted Sisters haha)!  We had too much fun and Meg helped support the other vendors and checked lots of things off her Christmas Shopping list.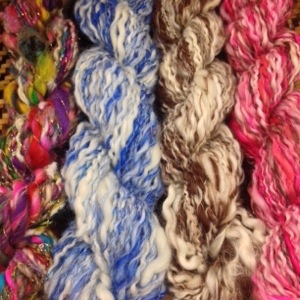 Above is a few of the skeins of yarn I created while in my booth.  A few of them sold before I could snap pics…one even sold while it was still on the bobbin!  I hope everyone enjoys the yarn and all the goodies bought during the show and I appreciate your business more than words can express.  Thank you!!!  There will be a shop update on Monday with new skeins of handspun yarn and a few scarves too!