This past week, I gathered material for and carded my first ever themed art batt! It took me awhile (big surprise) to choose my theme, but after viewing some photographs in my friend's astronomy textbook, all my stars seemed to align. I knew my destiny: to create a galaxy-themed yarn.
Pretty pretty images like this served as my guide: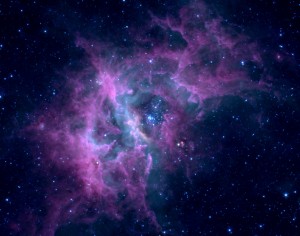 With stardust in our heads, Cyndi and I journeyed to Hobby Lobby, searching for various materials and colors to deconstruct in the drum carder. The added material would serve to make the space-yarn as funky and textured as possible.
As usual, it took me ages to card the art batt.  Surely I was blending enough fluff for like 200 yards of yarn, I thought.  But no, I ended up with less than Cyndi's 100 yard average, and it took about three times as long to do so.  (She's a pro, what can I say.)  But here's the result: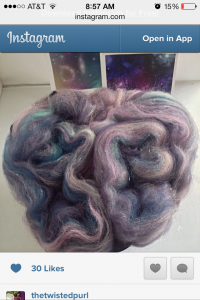 Cyndi sent me a link to her Instagram post of my star-fluff (I don't have my own Instagram– I can't decide whether to get one or not… I love photographing so it would probably take over my life (Also I need to charge my phone)). Anyway, I was very pleased with my star-fluff, and excited to see it in yarn form.  I had to leave before Cyndi had time to spin it (I won't go into the details, but there was a lot of  weird stuff going on that Tuesday; the fireplace, printer, a necklace, and a power outlet were involved).  A few days later Cyndi sent me a text with a picture of the yarn, and said it sold in about five minutes. I was over the moon.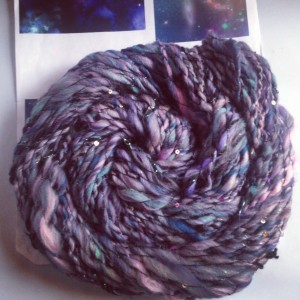 I love it I love it I love it! Next time I will have to be sure and add larger amounts of fiber into the drum carder, though, so more yarn can be spun.
Friday (VALENTINE'S DAY– MY FAVORITE HOLIDAY) Cyndi and I wrapped some fluff into dryer balls, and discussed social media and internet presence.  We will continue this conversation next week, as I definitely have a lot to learn.  At this point in my life, with my studies, jobs, and internship taking up almost all of my "free" time, I've decided to forgo having any sites of my own (including Facebook, Pinterest, Instagram, and Twitter).  One day, especially if I have my own business, knowing how to post on and navigate sites like these will be crucial to my success.  Amidst tips and bits of information on social media, Cyndi informed me of something perhaps even more important: the existence of heart-shaped pizzas on V-Day. I was higher than over the moon.  I was over the Milky Way. My life, I said, would never be the same. Seizing the moment, Cyndi immediately called Papa Johns and I placed an order. Later that day I gave the pizza away as a Valentine's gift to two of my friends, complete with M&M lettering, Princess Diaries style.  My time at The Twisted Purl also inspired another one of my Valentine's Day surprises, this one to my roommate: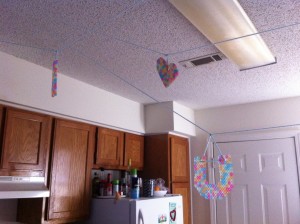 A yarn-bombed kitchen!  I didn't have much time before she woke up, or it would have been much more extreme.
And finally, my lovely friends threw me a surprise Valentine's Day party. One of them picked me up for our "date," blindfolded me, and drove me around Conway for half an hour.  When I took the blindfold off, we were in another friend's apartment. Most of my closest friends were there. They told me it was Kate's Day, made me dinner, and gave me presents and wine.  They also made me these adorable sheep cupcakes:
BEST DAY EVER. Thanks to Cyndi and The Twisted Purl for starting it off right.  In all of my busy-ness, I sometimes forget how blessed I truly am.  I'm studying at a great school, I have the kindest of friends, two flexible, paying jobs, and a lovely, gratifying internship. I'm living the life.
<3 * <3 * <3