Hey Guys!  My week at The Twisted Purl was pretty short due to some more bad weather around these parts.  It is supposed to warm up next week.  I'm just hoping it will finally turn into Spring like it has in the studio.  I went back to my roots at The Twisted Purl by helping with the labeling and packaging of Spring time soaps.  All of the colors are so happy, and most of the soaps that was labeled are already on their way to stores around the world.  Here are some photos of all of the soaps on the table.  Cyndi had arranged some of them into this cute heart shape before I even arrived.
When we were all done labeling, I looked into the bucket we had been depositing the labeled soaps into, and it was overflowing.  Cyndi said she wished she could just keep that bucketful for when Christmas hits next year, since she can barely make soaps as fast as people order them around the holidays!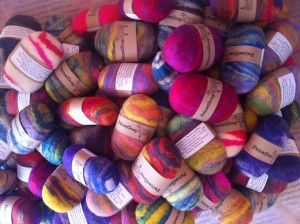 After finishing up with the soaps, Cyndi helped me remember how to knit.  Granted, I've never been a good knitter.  I've always had my mom to start and stop for me, and I've only ever made very simple scarves with very even and machine made yarn.  I had to learn again on the yarn I made myself, which for those of you who read my last post know, the yarn was very uneven and crazy.  Some parts of the little splotch I knitted are very nice looking, some are too thick, and some are so thin that they are curling up on themselves.  Here is the finished product.  I think it looks like a really ugly bow-tie, or maybe even a strand of DNA.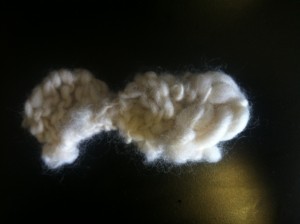 But this little corner of my creation actually looks decent!  The yarn here was some of the later stuff I made, so I had gotten a little bit more consistent when it comes to using a drop spindle.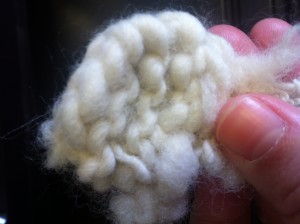 I hope everyone has a good week!  I'm going to be hoping for more Spring weather so that next week in the studio will be a very long and full one!
Until then,
Zoe B.